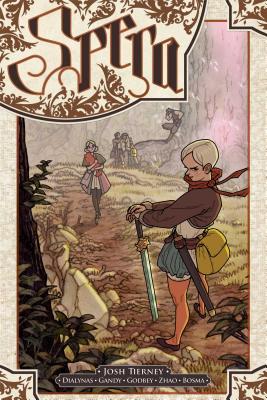 Spera, Volume 3 (Hardcover)
Archaia, 9781939867018, 175pp.
Publication Date: October 15, 2013
* Individual store prices may vary.
Description
Exiled princesses Pira and Lono travel to avoid the clutches of Pira's mother, the Evil Queen. Obtaining jobs as adventurers, the two best friends set out on a series of quests that land them in perhaps more excitement than they'd bargained for. This lush hardcover series collects and remasters the ongoing adventures, written by creator Josh Tierney and illustrated by a rotating collection of some of the finest sequential artists on the web. The series, which first began as a popular webcomic, brings artists together from around the globe to showcase their talents as some of the premier fantasy artists in the industry, and Volume 3 is no exception Featuring artwork from Cory Godbey, Michael Dialynas, Afu Chan, Meg Gandy, Amei Zhao, and Sam Bosma, Spera Volume 3 will transport you to a colorful world of wonder and excitement.
About the Author
Josh Tierney resides in London, Ontario with his wife and cat. He is the writer, creator and editor of the ongoing fantasy comic Spera, which features the artistic talents of a large--and still growing--team of illustrators. The online version of Spera can be found at Spera-Comic.com. His absurdist prose work can be found at JoshTierney.com.
or
Not Currently Available for Direct Purchase