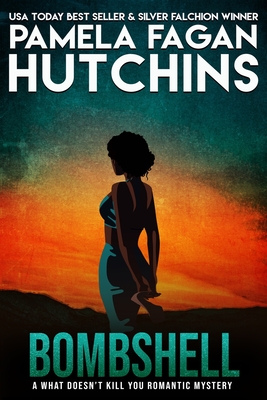 Bombshell (What Doesn't Kill You, #9) (Paperback)
An Ava Romantic Mystery
Skipjack Publishing, 9781939889621, 266pp.
Publication Date: July 22, 2017
* Individual store prices may vary.
Description
Sassy, sexy new heroine for the What Doesn't Kill You series, USA Best Book Award-Winner, Cross Genre Fiction.
If you like your mysteries exotic and fast-paced, then Ava's your girl, and Bombshell's the novel for you
Temp worker by day, lounge singer by night, single mom Ava is having a hard time breaking up with her long-distance boyfriend and making it without the support of her parents on the island of St. Marcos. Things improve dramatically when she lands a too-good-to-be-true job at a virtual currency exchange, where she meets a seriously sexy man, and goes to work for a boss so incredible he sponsors her on a trip to New York to record a demo. But when Ava stumbles across the raped and murdered body of a young woman, she recognizes her from a shared trauma back in their school days. Ava is devastated and throws herself into avenging the girl's death. From that moment on, it's one bombshell after another, going off closer and closer to Ava and the people she cares about most.
>>> See why Pamela's novels have won contest after contest.
2016 WINNER USA Best Book Award, Cross Genre Fiction
2015 WINNER USA Best Book Award, Cross Genre Fiction
2014 USA Best Book Award Finalist, Cross Genre Fiction
2014 Amazon Breakthrough Novel Award Quarter-finalist, Romance
2013 USA Best Book Award Finalist, Business: Publishing
2012 WINNER of the Houston Writers Guild Ghost Story Contest
2012 WINNER USA Best Book Award, Parenting: Divorce
2011 WINNER of the Houston Writers Guild Novel Contest, Mainstream
2010 WINNER of the Writers League of Texas Manuscript Contest, Romance
>>> Once Upon A Romance calls Hutchins an "up-and-coming powerhouse writer."
>>> The series reviews are in, and they're good. Very, very good.
"Just when I think I couldn't love another Pamela Fagan Hutchins novel more, along comes Ava. She's smart and sassy, with a story full of juicy plot twists. I enjoyed Bombshell from cover to cover " -- Marcy McKay, author of Pennies from Burger Heaven
"To finally get a whole book of Ava's beautiful voice and attitude was so much fun. And then to see that her outer armor was mixed with the very real insecurities and struggles that we can all relate to was magical. She personifies bombshell in every sense of word and I can't wait to have her voice in my head again in Stunner." -- Tara Scheyer, Grammy-nominated musician, Long-Distance Sisters Book Club
"Entertaining, complex, and thought-provoking." -- Ginger Copeland, power reader
>>> Check out the entire What Doesn't Kill You romantic mystery series.
Scroll up and pre-order your copy of Bombshell, today