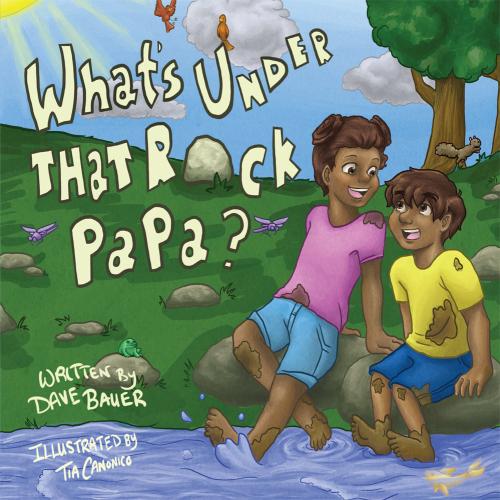 What's Under That Rock, Papa? (Hardcover)
Brandylane Publishers, Inc., 9781939930668, 40pp.
Publication Date: December 23, 2015
* Individual store prices may vary.
Description
When siblings Serea and Kai visit their grandparents for the weekend, they see and learn about all kinds of amazing natural wonders, from a scary thunderstorm to a spiderweb still sparkling with morning dew. And of course, they meet some creepy critters while composting!
About the Author
AUTHOR BIO
Dave Bauer loves the outdoors, hiking, biking and cross-country skiing. In addition to teaching environmental science for thirty-four years, he is a sustainability and environmental consultant, leadership trainer and business facilitator with his company, Sustainable Earth Solutions. He lives in Buffalo, New York. This is Dave's first book.

ILLUSTRATOR BIO
Tia Canonico is a recent graduate of Rochester Institute of Technology and has been drawing for as long as she can remember. She keeps herself well rounded in the realm of entertainment and storytelling as an artist of many trades. In her spare time she finds inspiration in books, movies, video games and nature, and she also draws motivation from within herself. She is currently freelancing on Long Island, New York.
Praise For What's Under That Rock, Papa?…
"Dave Bauer brings a close relationship with his grandchildren as well as nature exploration to this fun book that any child will relate to, especially those who have turned over a rock to examine the bugs underneath."
~ Judith Frizlen, Director, Rose Garden, Early Childhood Center; author of "Words for Parents in Small Doses"

"'What's Under That Rock, Papa?' by Dave Bauer is ALL a children's storybook should be! It is entertaining as well as educational, providing young children with a great story as well as important information about the world in which they live. The most compelling reason I would read this book to children is that it exudes a passion for learning! As an educator in a teacher preparation program, I will use this book in my college classroom to model the importance of student-centered inquiry learning. I hope this is only the first of 'The Bauer Family' children's books!"
~ Nicki M. Calabrese, Ph.D., Coordinator of Early Childhood Education, Canisius College, Buffalo, NY

"Sometimes the best thing for young children to do is slow down and take the time to go out in their backyard or local park and start turning over rocks to see what they can find. This book encourages this behavior, and also highlights the importance of having an adult to share in these experiences."
~ Scott Lawson, Early Childhood Programs Specialist, Buffalo Zoo

"Dave Bauer reminds us that children are hungry for nature and relationship, and in this beautiful book he gives us both."
~ Mary Carol Dearing, Elementary School Nature Club Advisor

"The pleasures of reading and exploring the natural world with curiosity and wonder shine through the pages of Dave Bauer's book for young readers."
~ Tim Grant, Editor, Green Teacher