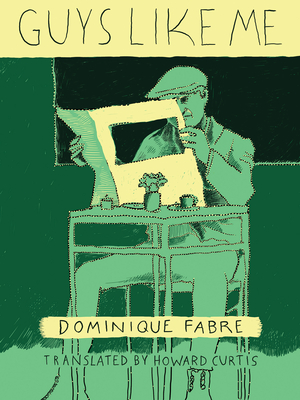 Guys Like Me (Paperback)
New Vessel Press, 9781939931153, 144pp.
Publication Date: February 24, 2015
* Individual store prices may vary.
Description
"Fabre's unexpectedly touching novel has a laugh of its own behind its low-key, smoothly translated narrative voice ... The city it evokes isn't the Paris of tourists but of local people."--The New York Times
"Fabre is a genius of these nuanced, interior moments ... The story Fabre tells is that of every one of us: looking for meaning in the mundane, moving through our lives, our interactions, as if through the fabric of a dream ... How do we live? it asks to consider. And: What does our existence mean?"--Los Angeles Times
"Guys Like Me is a short, arresting tale that ...not only offers keen insights into the mind of its middle-aged protagonist, but also provides the reader with a unique tour of what everyday life in the low-key suburbs of Paris must truly be like."--Typographical Era
"Readers will take pleasure in this well-told tale with a satisfying ending."--Publishers Weekly
"The setting may be Paris, but it's not the Paris of grand avenues and pricey caf's. In fact, Fabre's hero is a recognizable everyman, from any country."--Library Journal
A smile like a soft flash of light . . . travels through this moving novel and tells, in words that are muted and profoundly humane, of life as it is."--Le Monde
"Fabre speaks to us of luck and misfortune, of the accidents that make a man or defeat him. He talks about our ordinary disappointments and our small moments of calm. Fabre is the discreet megaphone of the man in the crowd."--Elle
"In this novel one finds the intimate geography of an author who lays bare the essence of Paris and its outskirts."--La Quinzaine litt raire
Dominique Fabre, born in Paris and a lifelong resident of the city, exposes the shadowy, anonymous lives of many who inhabit the French capital. In this quiet, subdued tale, a middle-aged office worker, divorced and alienated from his only son, meets up with two childhood friends who are similarly adrift, without passions or prospects. He's looking for a second act to his mournful life, seeking the harbor of love and a true connection with his son. Set in palpably real Paris streets that feel miles away from the City of Light, Guys Like Me is a stirring novel of regret and absence, yet not without a glimmer of hope.
Dominique Fabre, born in 1960, writes about people living on society's margins. He is a lifelong resident of Paris, France. His previous novel, The Waitress Was New, was also translated into English.
About the Author
Dominique Fabre: Dominique Fabre was born in Paris and has spent most of his life there. He writes novels and short stories, focusing on quotidian details and individual lives on the margins of society. His novel The Waitress Was New appeared in English in 2008. Howard Curtis: Howard Curtis has almost thirty years of experience as a literary translator from French, Italian and Spanish. Among the many authors he has translated are Flaubert, Balzac, Pirandello, Simenon, Filippo Bologna, Carole Martinez, Paolo Sorrentino and Santiago Gamboa.