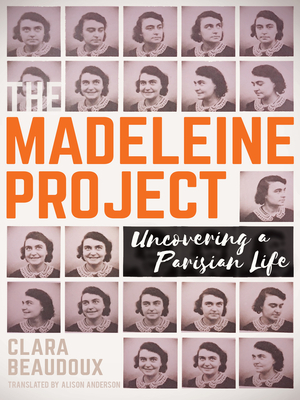 The Madeleine Project
Paperback

* Individual store prices may vary.
Description
This extraordinary little book touched me deeply. Part graphic novel, part literary archeology, the author slowly unpacks a dusty cellar, and brings her subject to life. Even Madeleine's recipes have risen. Who would have guessed Twitter could be so poetic.
--Elizabeth Bard, author of Lunch in Paris: A Love Story, with Recipes and Picnic in Provence
A young woman moves into a Paris apartment and discovers a storage room filled with the belongings of the previous owner, a certain Madeleine who died in her late nineties, and whose treasured possessions nobody seems to want. In an audacious act of journalism driven by personal curiosity and humane tenderness, Clara Beaudoux embarks on The Madeleine Project, documenting what she finds on Twitter with text and photographs, introducing the world to an unsung twentieth-century figure. Along the way, she uncovers a Parisian life indelibly marked by European history. This is a graphic novel for the Twitter age, a true story that encapsulates one woman's attempt to live a life of love and meaning together with a contemporary quest to prevent that existence from slipping into oblivion. Through it all, The Madeleine Project movingly chronicles, and allows us to reconstruct, intimate memories of a bygone era.
Clara Beaudoux is a Paris-based journalist for the France Info news network. The Madeleine Project has been wildly popular in France. You can follow her on Twitter at @Clarabdx.
Reading group guide to The Madeleine Project, as well as a related recipe booklet, is available free of charge at newvesselpress.com.
New Vessel Press, 9781939931498, 285pp.
Publication Date: September 12, 2017
About the Author
Clara Beaudoux is a Paris-based journalist for the France Info news network. Her documentation of The Madeleine Project gained thousands of followers on Twitter when she initiated it in November 2015. Alison Anderson is a novelist and a translator whose previous translations include The 6:41 to Paris and The Elegance of the Hedgehog. She lives in Buchillon, Switzerland.
1. Though The Madeleine Project is a true story, in many ways it's also a triumph of imagination—author Clara Beaudoux was curious enough to sort through all of the "stuff" left behind by a woman she'd never met, and to ask the questions that ultimately led to the book. Have you ever had a similar experience? Have you ever looked through a stranger's letters, their photo albums, knickknacks and antiques and wondered, What were their lives like?
2. Cleaning out our attics, clearing our basements of stuff that's piled up through the years'—it's something we all do. Does this book make you think differently about keeping some of the things from your past that you'd usually relegate to the wastebasket?
3. If one hundred years from now a complete stranger were to go through your things the way Clara went through Madeleine's, what story do you think they'd be able to tell about you? What would you want them to know/find?
4. The Madeleine Project may make you uncomfortable. Don't we all have a right to our privacy? you might ask. Did this question occur to you while reading the book? How would you answer it? Do you think the author herself addresses it sufficiently?
5. How did the unique format of the book—hundreds of Tweets, including pictures and feedback from fellow Twitter users—influence the way you read it? How does the format of The Madeleine Project change the way you experienced the story?
6. What would you have done if you had been the one to discover Madeleine's storage room? Would you have tossed it out? Or would you have sorted through it, and kept certain objects while discarding the rest?
7. How do you feel about the people in Madeleine's life such as her neighbors and godson who didn't initially care to keep Madeleine's possessions? Her rich life story would have been lost had it not been for Clara's burning curiosity. Do you fault the others for not taking the initiative to save Madeleine's possessions?
8. The book's subtitle is "Uncovering a Parisian Life." What do find particularly French about Madeleine's life (and Clara's)? How might her existence in a U.S. city have been different?
9. What are some of the things you wish Clara had been able to find out more about? What do you still want to know about Madeleine? And how do you feel about this ninety-some year old Frenchwoman who experienced the joys and terrors of the twentieth century? Do you admire her? Pity her? Do you wish to have known her?
10. Is there one person in your life, past or present, alive or dead, whose stuff you wish you could sort through, and find answers to certain questions?