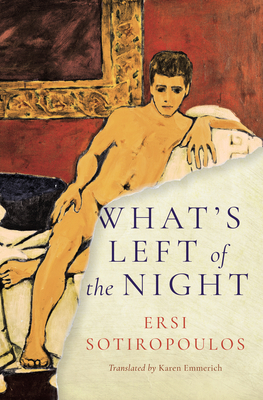 What's Left of the Night
Paperback

* Individual store prices may vary.
Description
A perfect book.―Edmund White, author of A Boy's Own Story and Genet: A Biography
WINNER OF THE 2019 NATIONAL TRANSLATION AWARD
In June 1897, the young Constantine Cavafy arrives in Paris on the last stop of a long European tour, a trip that will deeply shape his future and push him toward his poetic inclination. With this lyrical novel, tinged with a hallucinatory eroticism that unfolds over three unforgettable days, celebrated Greek author Ersi Sotiropoulos depicts Cavafy in the midst of a journey of self-discovery across a continent on the brink of massive change. He is by turns exhilarated and tormented by his homosexuality; the Greek-Turkish War has ended in Greece's defeat and humiliation; France is torn by the Dreyfus Affair, and Cavafy's native Alexandria has surrendered to the indolent rhythms of the East. A stunning portrait of a budding author--before he became C.P. Cavafy, one of the 20th century's greatest poets--that illuminates the complex relationship of art, life, and the erotic desires that trigger creativity.
New Vessel Press, 9781939931610, 260pp.
Publication Date: October 2, 2018