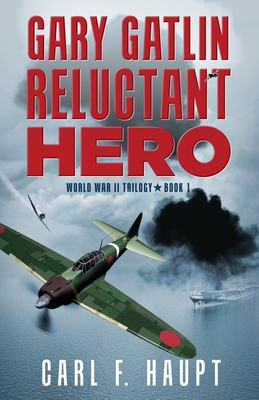 Gary Gatlin (Paperback)
Reluctant Hero: The Gary Gatlin Series, Book 1
Dudley Court Press, 9781940013572, 318pp.
Publication Date: November 5, 2019
Other Editions of This Title:
Hardcover (10/12/2018)
Paperback (10/11/2018)
* Individual store prices may vary.
Description
This Is the World War II Book Series You've Been Waiting For
Sworn to help his family's farm, American Gary Gatlin must find his way in Japanese-occupied Taiwan, always under the watchful eye of brigands and suspicious military officials. What if Gary were a spy?
Gary Gatlin: Reluctant Hero, the first book in Carl Haupt's eagerly-anticipated World War II trilogy, brings the uncertainty and excitement of the Pacific theater to life, all the way to the seat of a fighter plane during some of the most thrilling, heart-pounding moments.
He didn't seek out adventure, but adventure always had a way of finding him. From sabotage to theft to kidnapping. Hidden gold coins to shark-filled waters to fatal bombings. Gary must always find a way to survive. But who exactly is Gary Gatlin? He is the hero that every man wants to be and every woman loves.
A chance encounter alters the course of Gary's idyllic German-American childhood in Utah, changing his destiny forever. But is he up to the task? Can he make his family proud?
On the eve of World War II, Japanese-occupied Taiwan can be a dangerous place for an American, but he's armed with his parents' values, a stack of agricultural journals, jiu jitsu lessons and knowledge of Japanese poetry. Can Gary summon the courage to do what's right, even when he constantly finds his life in danger? Gary is a man of honor, but that doesn't mean it's easy.
Gary is dedicated to learning advanced farming techniques and earning the trust of Japanese farmers and Chinese fruit sellers. But he must also gain the trust of foreign spies, local kidnappers, untrusting military officials and a beautiful, headstrong woman who he may never see again.
Will Gary be able to make it out alive?
If you're drawn to tales of World War II and ships, planes and sturdy characters from the 1940s, then you won't be able to resist the story of Gary Gatlin: Reluctant Hero (Book 1). Carl Haupt's first title in the series is a fascinating window into a unique time, a unique place, a unique man and a very unique turn of events. You'll never look at World War II's Pacific theater in the same way
This is the story of a lifetime.
or
Not Currently Available for Direct Purchase