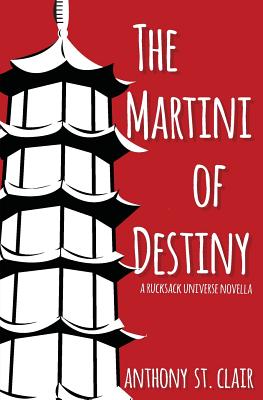 The Martini of Destiny
A Rucksack Universe Novella
Paperback

* Individual store prices may vary.
Description
One drink changed everything. Influencing a man's fate should have been another day behind the bar. Bartender Jake Hongkong has served The Management longer than any other Jake or Jade, but now he doubts his role influencing people's destinies and decisions. Declan is directionless and scared when he comes to the pub, yet one drink is all it takes to give him the courage to make a life-altering decision. Deeply shaken by something he wasn't meant to see, Jake doubts more than ever, and consequences ripple through destiny and the world. Soon one martini will forever alter lives and fates... especially Jake's and Declan's. About the Rucksack Universe Series: Wits. Wanders. Beers. Travel to a new world of myth and adventure with the ongoing fantastical tales of the Rucksack Universe.
Rucksack Press, 9781940119038, 82pp.
Publication Date: December 5, 2013
About the Author
Anthony St. Clair has walked with hairy coos in the Scottish Highlands, choked on seafood in Australia, and watched the full moon rise over Mt. Everest in Tibet. Anthony's travels have also taken him around the sights and beers of Thailand, Japan, India, Canada, Ireland, the USA, Cambodia, China and Nepal. He and his wife live in Oregon and gave their son a passport for his first birthday. More at www.anthonystclair.com