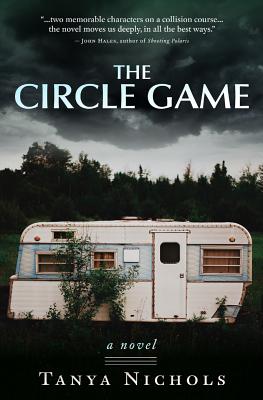 The Circle Game (Paperback)
Alternative Book Press, 9781940122380, 356pp.
Publication Date: March 29, 2018
* Individual store prices may vary.
Description
Bernadette "Bernie" Sheridan, has the Carlos Lunas case in the bag. She's smart, confident, and fueled by personal tragedy. She knows all too well what's at stake for the six-year-old, Mexican-American boy, who lost his parents to a drunk driver. After all, her own mother and father--her adopted parents--died tragically when she was only thirteen, and she's been struggling with the emotional loss ever since. Now, nearing forty and jaded as ever, she's adamant about saving Carlos from a fate similar to her own, even if only by winning him a healthy monetary settlement. Even if it means she must harken back to a painful childhood in order to do so.
There are other obstacles waiting for Bernie: a hotshot, misogynist defense attorney will challenge her case; her beloved grandmother's deteriorating health will threaten her only semblance of family; and a handsome economist will begin to test her iron-clad vulnerability. Surely, she'll be able to forge past all this chaos. For Carlos's sake. But what will happen when her birth mother, Julie, tries to reenter the picture thirty-seven years after giving her away? Will Bernie decide to toss that aside too, on her martyrly mission for justice? Meeting Julie may be just the thing Bernie needs to win the Lunas case in the end. And learning her harrowing story may also provide the missing piece in the tragic puzzle of her haunted childhood.
Told through the verging, alternating viewpoints of two broken women in two different eras, The Circle Game is at once a thoughtful commentary on female agency, racial bias, and domestic abuse, as well as a nuanced novel wrought with literary heft and profound psychological tension.
"Tanya Nichols' The Circle Game sets two memorable characters on a collision course: Bernadette, an idealistic attorney overwhelmed by courtroom challenges and more personal questions of identity and purpose; and Julie, her anonymous birth mother, whose story unfolds decades earlier in a dingy trailer parked behind a biker bar. Nichols' prose consistently grabs the reader with its lyrical clarity, and implicates us in the lives of complex and engaging characters. The novel moves us deeply in all the best ways..."
--John Hales, author of Shooting Polaris: A Personal Survey in the American West
"California's great Central Valley long has been fertile ground for novelists eager to write about immigrants, busted dreams and the moral questions facing real people in their everyday lives. With The Circle Game, where the ghosts of the past lurk in the corners of every chapter, Tanya Nichols zeroes in on good intentions that lead to fatal consequences. It's a tale of families, motorcycle outlaws, lovers, and redemption. You won't soon forget it."
--Bill McEwen, GV Wire
"The Circle Game has the power to show us that, even after years of great tragedy and loneliness, only forgiveness can open the circle of family and let in those we need most."
-- Kristin FitzPatrick, author of My Pulse is and Earthquake
About the Author
Tanya Nichols is the author of two novels, The Circle Game and The Barber's Wife. Her work has appeared in North Carolina Literary Review, Sycamore Review, In the Grove, and San Joaquin Review. Nichols received her MFA in fiction writing from Fresno State University where she now teaches writing and literature courses.


Praise For The Circle Game…
Tanya Nichols' The Circle Game sets two memorable characters on a collision course: Bernadette, an idealistic attorney overwhelmed by courtroom challenges and more personal questions of identity and purpose; and Julie, her anonymous birth mother, whose story unfolds decades earlier in a dingy trailer parked behind a biker bar. As they negotiate their separate but inevitably intertwined lives, we find ourselves asking our own hard questions, and pondering the mysteries of our own lives. Nichols' prose consistently grabs the reader with its lyrical clarity, and implicates us in the lives of complex and engaging characters. The novel moves us deeply in all the best ways, as it sheds light on the greatest mystery of all, the mystery of the human heart.

-- John Hales, author of Shooting Polaris: A Personal Survey in the American West

California's great Central Valley long has been fertile ground for novelists eager to write about immigrants, busted dreams and the moral questions facing real people in their everyday lives. With The Circle Game, where the ghosts of the past lurk in the corners of every chapter, Tanya Nichols zeroes in on good intentions that lead to fatal consequences. It's a tale of families, motorcycle outlaws, lovers and redemption. You won't soon forget it.
-- Bill McEwen, opinion editor, Fresno Bee

The Circle Game has the power to show us that, even after years of great tragedy and loneliness, only forgiveness can open the circle of family and let in those we need most.
-- Kristin FitzPatrick, author of My Pulse is and Earthquake