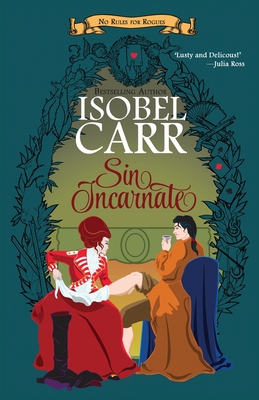 Sin Incarnate
Paperback

* Individual store prices may vary.
Description
Six Nights Of Pleasure...Georgianna Exley's passionate nature has always been her undoing-and for this reason the beautiful young widow allows her lovers only a single night in her bed. No man will ever have the right to dictate to her; to presume he owns her. But Ivo Dauntry has at last come home to England, and for he'll settle for nothing less than one night for every year he's given up for her...and soon, his daring seduction becomes a sensual contest of wills Georgianna is all too willing to lose. But the long-ago duel that bound them forever has repercussions neither of them could ever have foreseen, and once again, Ivo must risk everything, this time to save the woman he loves...
Single title historical romance. 75K words. Previously published as Lord Sin by Kalen Hughes. KISS Award. Nominated for an RT BOOK REVIEWS Award.
4-Stars (RT Book Reviews)
" Carr] debuts with a novel that's part erotic romance and party country house party romp--a unique combination that will keep readers intrigued. Part of the appeal is Carr]'s ability to create likable characters as well as spicy love scenes tinged with rough sex and tenderness. She's definitely on her way to enticing readers who adore Lisa Kleypas, Pamela Britton and Katherine O'Neal."
Golightly Press, 9781940160009, 214pp.
Publication Date: September 17, 2020