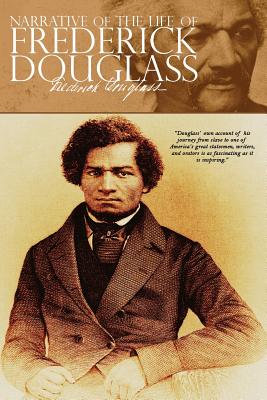 Narrative of the Life of Frederick Douglass
Paperback

* Individual store prices may vary.
Other Editions of This Title:
Paperback (9/26/2018)
Paperback (1/4/2020)
Paperback (2/23/2012)
Paperback (8/16/2018)
Paperback (5/31/2019)
Paperback (2/21/2020)
Paperback (11/29/2013)
Paperback (6/16/2011)
Paperback (9/1/2014)
Paperback (3/31/2020)
Paperback (4/15/2014)
Paperback (8/18/2018)
Paperback (1/22/2020)
Paperback (11/4/2009)
Paperback (7/23/2016)
Paperback (2/26/2020)
Paperback (11/14/2011)
Paperback (10/28/2016)
Paperback (11/16/2015)
Description
Frederick Douglass tells his own story in this remarkable narrative-remarkable not only for the life it chronicles but also for its eloquence. Born into a system which forbade learning even the basics of reading and writing, the author discovers ingenious methods for teaching himself. Sent from master to master, place to place, he experiences the life of the house slave and the field slave in virtually all their degrees. He is fed reasonably well and starved, treated reasonably well and flogged. From the tobacco farms and comfortable city dwellings near the Mason-Dixon Line to the cotton plantation fields further south, he witnesses and experiences first-hand the evils of the South's degrading "peculiar institution." Finally fleeing to the North after nineteen years of forced labor, he is discovered to be a remarkably gifted voice for the enslaved masses in the South and for the struggling, often persecuted and hunted, free black men and women in the northern states. "Sincerely and earnestly hoping that this little book may do something toward throwing light on the American slave system, and hastening the glad day of deliverance to the millions of my brethren in bonds-faithfully relying upon the power of truth, love, and justice, for success in my humble efforts-and solemnly pledging myself anew to the sacred cause, -I subscribe myself, FREDERICK DOUGLASS.
Blackrock Classics, 9781940177151, 140pp.
Publication Date: June 13, 2013