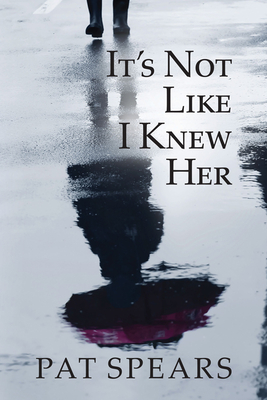 It's Not Like I Knew Her (Paperback)
Twisted Road Publications, 9781940189123, 328pp.
Publication Date: July 1, 2016
* Individual store prices may vary.
Description
Fiction. Jodie Taylor's childhood is filled with loss, abuse, chronic disappointment, and an instinctive awareness that her desire for women will forever make her an outcast. At 18, she flees her home town in rural north Florida and arrives in racially charged Selma, Alabama in 1956 as a penniless fugitive. She finds work in a cafe that is frequented by racist nightriders and, with an eye on the door, she hunkers down behind a wall of lies and half-truths. Her self- imposed silence with the family she left behind is broken when a crisis sets Jodie on a backward journey. As she struggles to reconcile her past with the present, she begins the inward journey she must take to truly find her home.
About the Author
Pat Spears's debut novel, Dream Chaser, was released in 2014. She has twice received honorable mention in the Lorian Hemingway Short Story Competition; first in 2013 for her story "Stranger At My Door" and again in 2015 for her story "Free Ride". Her short stories have appeared in numerous journals, including the North American Review, Appalachian Heritage, Seven Hills Review, and anthologies titled Law and Disorder from Main Street Rag, Bridges and Borders from Jane's Stories Press and Saints and Sinners: New Fiction from the Festival 2012. Her short story "Whelping" was a finalist for the Rash Award and appears in the 2014 issue of Broad River Review. She is a sixth generation Floridian and lives in Tallahassee, Florida.
Praise For It's Not Like I Knew Her…
It's Not Like I Knew Her is one of the most deeply felt novels I have read in a long time. Jodie Taylor is an unforgettable character. Her at times gut-wrenching journey of self-discovery and truth is a tale for the ages. Pat Spears is a rare writer. She peers into the heart of darkness and finds, of all things, redemption. Read this book.—Connie May Fowler, author of How Clarissa Burden Learned to Fly and Before Women had Wings

"Women I know very well. Like a southern version of Patience & Sarah. Deeply satisfying and emotionally resonant." ~ Dorothy Allison, National Book Award Finalist, author of Bastard Out of Carolina and Cave Dweller

"Jodie Taylor is growing up queer, poor and white in the rural south in the 1960's. She is also the headstrong and compelling protagonist in Pat Spear's wonderful novel It's Not Like I Knew Her. Spears doesn't shy away from the realities of race, sexuality and class bigotry. But this gritty, complex, character- driven story is Jodi's. Rarely have I been so taken by a personality in a novel as I have been by the stubborn, broken generous Jodie Taylor. Spears knows how to dress the working poor. She wraps their flesh and blood bodies in work and lets them build their own worlds from all the strength and frailty that is human. Jodie refuses to succumb to a series of bad breaks and bad choices. She holds fiercely to her dream of a world where she can love women, return to the challenges of her troubled past, and play basketball hard and fast enough to win the game and make a living. All the characters in this book are engaging, but Jodie especially seems so real I feel like I knew her." ~ Sally Bellerose, author of The Girl's Club

or
Not Currently Available for Direct Purchase