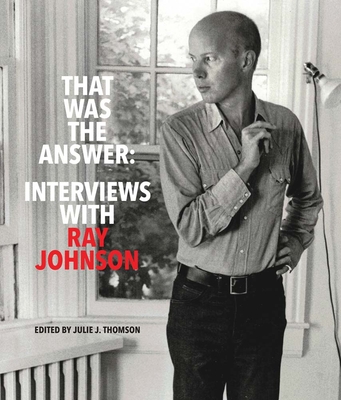 That Was the Answer (Paperback)
Interviews with Ray Johnson
Soberscove Press, 9781940190204, 200pp.
Publication Date: September 4, 2018
* Individual store prices may vary.
Description
"I did one of my most bizarre lectures up at the Rhode Island School of Design. It consisted of my trying to move a piano across a stage, and people kept coming up to ask if they could help, and I said, 'Certainly not I mean the point is that I can't move this piano, and I'm struggling to move it, and it's obviously not going to get moved across the stage, and I'm putting out a great exertion of energy, and I'm on a public platform, and you are all viewing me, which is the whole point of this thing.' I said, 'You figure it out.'"-Ray Johnson
Ray Johnson was a singular artist whose life and work were inextricably linked. Born in Detroit, Johnson attended Black Mountain College before moving to New York, where his work anticipated pop art and he was active in early Fluxus circles. Best known for his collages and mail art activities, including what became known as the New York Correspondence School, he operated fluidly in a wide range of modes. For Johnson, everything and everyone were potential material for his art--any form could become a space for artistic activity--and the form of the interview proved no exception.
That Was the Answer: Interviews with Ray Johnson brings together a selection of interviews and conversations from 1963 to 1987 that offer unique access to Johnson's distinctive thinking and working methods. Throughout, Johnson's responses are marked by his humor and close attention to language. Gathering these interviews for the first time, That Was the Answer serves as an ideal introduction to Ray Johnson as well as a resource for those wanting deeper insight into this artist and his kaleidoscopic body of work.
About the Author
Born in Detroit, Michigan, Ray Johnson (1927-95) studied under Josef Albers and Robert Motherwell at Black Mountain College in North Carolina, and worked as a painter early in his career, exhibiting alongside Ad Reinhardt before embracing pop imagery, collage and mail art, producing thousands of collages and other works on paper. His life and death were the subject of the award-winning documentary How to Draw a Bunny(2002).