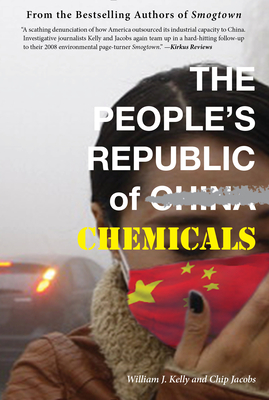 The People's Republic of Chemicals
Hardcover

* Individual store prices may vary.
Description
Maverick environmental writers William J. Kelly and Chip Jacobs follow up their acclaimed Smogtown with a provocative examination of China's ecological calamity already imperiling a warming planet. Toxic smog most people figured was obsolete needlessly kills as many as died in the 9/11 attacks every day, while sometimes Grand Canyon-sized drifts of industrial particles aloft on the winds rain down ozone and waterway-poisoning mercury in America. In vivid, gonzo prose blending first-person reportage with exhaustive research and a sense of karma, Kelly and Jacobs describe China's ancient love affair with coal, Bill Clinton's blunders cutting free-trade deals enabling the U.S. to export manufacturing emissions to Asia in a shift that pilloried the West's middle class, Communist Party manipulation of eco-statistics, the horror of cancer villages, the deception of the 2008 Beijing Olympics, and spellbinding peasant revolts against cancer-spreading plants involving thousands in mostly-censored mel es. Ending with China's monumental coal-bases decried by climatologists as a global warming dagger, The People's Republic of Chemicals names names and emphasizes humanity over bloodless statistics in a classic sure to ruffle feathers as an indictment of money as the real green that not even Al Gore can deny.

Rare Bird Books, a Vireo Book, 9781940207254, 280pp.
Publication Date: November 1, 2014
About the Author
William J. Kelly is the co-author Smogtown: the Lung-Burning History of Pollution in Los Angeles and the author of Home Safe Home. His reporting has appeared in the Los Angeles Times, Consumers Digest, Inside Climate News, L.A. Weekly, and the California Journal, among other outlets. He was chief spokesman for South Coast Air Quality Management District, the smog control agency for greater Los Angeles, and is currently the senior correspondent for the California Current. Kelly, the recipient of numerous writing awards, lives in the Los Angeles area. Chip Jacobs is the author of five other books: Strange As It Seems: the Impossible Life of Gordon Zahler; The Vicodin Thieves: Biopysing L.A.'s Grifters, Gloryhounds and Goliaths; The Ascension of Jerry: Murder, Hitmen and the Making of L.A. Muckraker Jerry Schneiderman; Smogtown: the Lung-Burning History of Pollution in Los Angeles (with William J. Kelly); and the privately issued Black Wednesday Boys. Jacobs' reporting has appeared in the Los Angeles Times, The New York Times, CNN, Bloomberg View, the Daily News of Los AngelesLA Weekly, among other outlets. Jacobs, the recipient of numerous writing commendations, lives in Southern California. Visit chipjacobs.com to learn more.