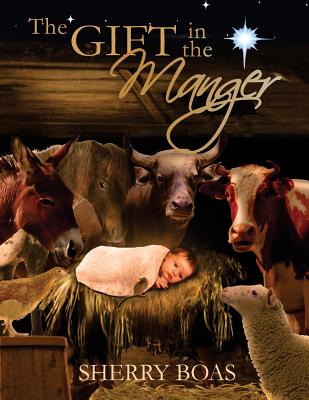 The Gift in the Manger
Paperback

* Individual store prices may vary.
Description
When their feeding trough ends up serving as a bed for a tiny baby, the animals get a glimpse into God's loving plan to save the world. Like every one of us, each of the animals gathered around the manger has a struggle to overcome. They, like us, find the answer in Jesus, the only one who can fix our brokenness, heal our imperfections and give us the gift that makes us whole - the gift of himself. No matter what our flaws and limitations, Jesus has the remedy, if only we trust in him. In this charming fable by seasoned story teller Sherry Boas, the animals in the stable get a chance to see all the gifts Jesus has brought into the world, all revealed in the tiny baby's eyes.
Caritas Press, 9781940209173, 48pp.
Publication Date: May 29, 2015
About the Author
Since entering the field of Catholic publishing in 2011, former newspaper reporter Sherry Boas has written and published a number of books for children and adults, all of which can be found at CaritasPress.org and CatholicWord.com. She is perhaps best known for the Lily Series, which began with Until Lily and has grown into an expanding collection of novels whose characters' lives are unpredictably transformed by a woman with Down syndrome. The sixth in the series is expected to be released in spring 2016. Although she won numerous awards in her ten-year career as a journalist for a daily newspaper, it was Boas' vocation as a mother that would best prepare her for an author's career. For her, truth resounds and inspiration abounds in the struggles and triumphs of every-day family life. In awed wonder, the Boases have watched a number of miracles unfold in their faith-filled and often-zany Arizona home. Sherry and her husband Phil are the grateful adoptive parents of four children, including one with Down syndrome and another who was born fifteen weeks early. In stolen moments between home schooling, burning dinner and mating mismatched socks, Boas runs Caritas Press from her home office, which looks more like animal shelter meets Lego factory than it does publishing house. In addition to Catholic fiction, Caritas Press publishes a series of rosary meditations for moms, dads, children, teens, grandparents and altar servers and an expanding line of Catholic and pro-life children's books including Victoria's Sparrows, Miraculous Me, Barnyard Bliss, St. John Bosco and His Big Gray Dog and God's Easter Gifts. In 2014, Boas made her debut into youth fiction with Billowtail, a novel that chronicles the adventures of a band of squirrels on the Way of St. James in Medieval Spain. Her first children's picture book Little Maximus Myers (Tau Publishing), tells the tale of an altar boy too small to carry the cross who comes to understand that our limitations can bring us closer to Christ. Boas is also author of A Mother's Bouquet: Rosary Meditations for Moms and the novel, Wing Tip, a unique tale of relentless love about a priest whose mother's deathbed confession reveals a shocking family secret. You can find Boas' work in Catholic bookstores nationwide, at LilyTrilogy.com, CaritasPress.org and CatholicWord.com and in a jumble of cardboard boxes in the closet under the stairs.