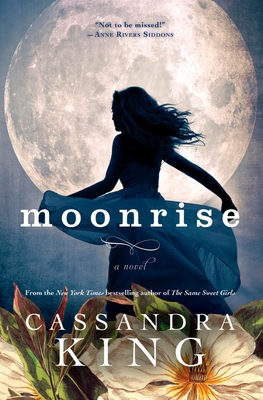 Moonrise (Hardcover)
Maiden Lane Press, 9781940210001, 400pp.
Publication Date: September 3, 2013
Description
Moonrise by Cassandra King is a modern gothic tale inspired by Daphne du Maurier's classic novel Rebecca, which still enchants readers 75 years after its original publication.


A new wife arrives at Moonrise, a forbidding old Victorian house in an eerily beautiful setting, (complete with a neglected nocturnal garden), hoping to be embraced by the family and friends of her new husband, a charismatic journalist whose previous wife died under mysterious circumstances. Instead, she finds herself rejected and reviled, unable to forge an identity apart from the lingering presence of her predecessor. No matter how hard she tries to gain acceptance from her husband's daughter and his circle of friends, something--or someone--is determined to drive her away. Her arrival unexpectedly sets forces in motion, ultimately leading to the uncovering of long-hidden desires and the tragic consequences of betrayal. She soon she wonders if she can trust anyone, even the man she loves.


Set in the cloud-shrouded mountains of western North Carolina, at a summer vacation spot that attracts many of the wealthy from Atlanta and elsewhere, Moonrise combines du Maurier's command of suspense, intrigue, and foreboding with King's light approach to human foible.
About the Author
CASSANDRA KING, who has been called "the Queen of Southern storytelling," is the author of four novels, " Making Waves, The Sunday Wife, The Same Sweet Girls "and "Queen of Broken Hearts," as well as numerous short stories, essays and articles." Moonrise," her fifth novel, is set in Highlands, North Carolina. A native of Alabama, Cassandra resides in Beaufort, South Carolina, with her husband, writer Pat Conroy.
Praise For Moonrise…
"Cassandra King is the Queen of Southern Storytelling."

--The Post and Courier (Charleston)



"...A suspenseful Gothic that gives a nod to its predecessors while still being fresh."

--Publishers Weekly on Moonrise



"Moonrise is a fantastic, not-to-be-missed novel."

--Anne River Siddons, author of The House Next Door



"…Best-selling King presents an animated tale laced with ample intrigue as secrets surrounding Moonrise are slowly revealed."

-- Booklist



"I read Moonrise in a single greedy gulp. Moonrise [is] a satisfying ghost story that is also a thoughtful examination of obsession, love, and the space where the two meet."

-- Meg Waite Clayton, author of The Wednesday Sisters and The Wednesday Daughters



"Moonrise is a beautifully written, fast-paced novel that clearly comes from the pen of a fine southern storyteller, her finest book to date."

--Janis Owens, author of American Ghost
Advertisement