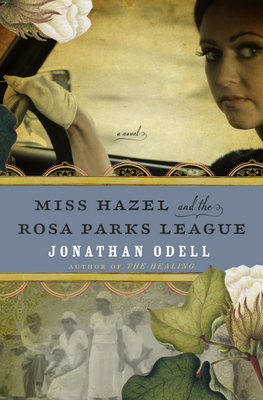 Miss Hazel and the Rosa Parks League
Paperback

* Individual store prices may vary.
Other Editions of This Title:
Hardcover (2/4/2015)
Description
Miss Hazel and the Rosa Parks League is a brilliant reimagining and republication of Jonathan Odell's debut novel, The View from Delphi. Set in pre-Civil Rights Mississippi, and inspired by his Mississippi childhood, Odell tells the story of two young mothers, Hazel and Vida - one wealthy and white and the other poor and black - who have only two things in common: the devastating loss of their children, and a deep and abiding loathing for one another. Embittered and distrusting, Vida is harassed by Delphi's racist sheriff and haunted by the son she lost to the world. Hazel, too, has lost a son and can't keep a grip on her fractured life. After drunkenly crashing her car into a manger scene while gunning for the baby Jesus, Hazel is sedated and bed-ridden. Hazel's husband hires Vida to keep tabs on his unpredictable wife and to care for his sole surviving son. Forced to spend time together with no one else to rely on, the two women find they have more in common than they thought, and together they turn the town on its head. It is the story of a town, a people, and a culture on the verge of a great change that begins with small things, like unexpected friendship.
Praise For Miss Hazel and the Rosa Parks League…
"A terrific novel! Jonathan Odell can take his place in the distinguished pantheon of Southern fiction." —PAT CONROY, author of The Prince of Tides and South of Broad

"Soaring high above the trite aphorisms of Southern "chick" literature, Odell incorporates the essences of other literary offerings in the same genre, putting his second novel alongside such notables as The Help, Gone with the Wind, To Kill a Mockingbird, Fried Green Tomatoes at the Whistlestop Cafe, and Secrets of the Ya-Ya Sisterhood. Not to mention the works of Eudora Welty, the pioneer of Southern fiction. Miss Hazel and the Rosa Parks League is a substantial, thought-provoking must-read worthy enough to be, pardon the pun, in their league."

–June J. McInerney, Author Exposure



"Here it comes---barreling down the track like a runaway train, a no-holds-barred Southern novel as tragic and complicated as the Jim Crow era it depicts. Author Odell is taking it all on: issues of class as well as race--- hope, love and idealism along with evil, greed, downright meanness and cruelty. You will fall in love with both main characters: Vida, the young unwed black mother living with her revered minister father, Levi, and her mixed-race child ; and innocent Hazel, unable to escape her white trash upbringing, who finds more community with Vida and the other maids than with the upper class white women in the Delta town of Delphi, Mississippi. These characters are as deeply complex as the times, the plot as winding as those roads that Miss Hazel keep driving and driving in her big car. MISS HAZEL AND THE ROSA PARKS LEAGUE is a big brilliant novel whose time has come."

—Lee Smith, New York Times bestselling author of The Last Girls and Guest on Earth

"Deep in context and rich with history that is never easy to put into words, Miss Hazel and the Rosa Parks League solidifies Odell's spot on the elite list of esteemed Mississippi writers."

–Jacksonville Clarion-Ledger



"Readers who liked The Help will love it. Readers who hated The Help will really love it. Odell based Hazel and Vida on his own mother, as well as the woman who raised him. The book is a story of true redemption, as opposed to a condemnation of place, time, and circumstance. Deep in context and rich with history that is never easy to put into words, Miss Hazel is sure to please the pickiest of Southern fiction readers."

–Emily Gatlin, Book Riot



"Hazel is the wild card in a game that Odell plotted to make a winning hand."

–Rob Neufeld, Asheville Citizen-Times


"With its deftly drawn characters, delicious dialog, and deeply satisfying and hopeful ending, this fine novel deserves to win the hearts of readers everywhere. Book clubs, this one is definitely for you!"

—Meg Waite Clayton, New York Times bestselling author of The Wednesday Sisters

"This novel, told through the eyes of two different but utterly memorable women-one white and one black-vividly brings to life a fabulous cast of characters as well as a troubling time in our not-so-distant past. Odell is an astonishingly good storyteller. You won't want to miss this one."

—CASSANDRA KING, author of The Sunday Wife and Moonrise
Maiden Lane Press, 9781940210049, 460pp.
Publication Date: February 4, 2015
About the Author
Jonathan Odell is the author of two novels, the critically acclaimed The Healing (Nan A. Talese/Doubleday, 2012), which was called required reading by The New York Post, a storytelling tour de force by the Associated Press, and was compared by critics to both Toni Morrison's Beloved and Kathryn Stockett's The Help; and his debut novel, The View from Delphi (MacAdam/Cage, 2004), recently updated and republished as Miss Hazel and the Rosa Parks League, which is receiving glorious praise from the press and readers alike. Odell was born and raised in Mississippi. His short stories and essay have appeared in numerous collections. A highly regarded public speaker and leadership coach, he now resides in Minnesota.