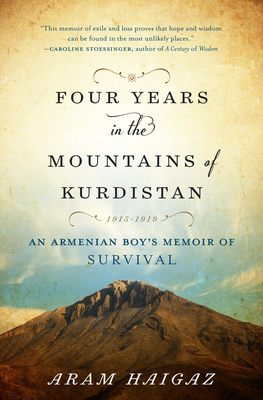 Four Years in the Mountains of Kurdistan
An Armenian Boy's Memoir of Survival
Hardcover

* Individual store prices may vary.
Description
Armenian Aram Haigaz was only 15 when he lost his father, brothers, many relatives and neighbors, all killed or dead of starvation when enemy soldiers surrounded their village. He and his mother were put into a forced march and deportation of Armenians into the Turkish desert, part of the systematic destruction of the largely Christian Armenian population in 1915 by the Ottoman Empire. His mother urged Aram to convert to Islam in order to survive, and on the fourth day of the march, a Turk agreed to take this young convert into his household. Aram spent four long years living as a slave, servant and shepherd among Kurdish tribes, slowly gaining his captors' trust. He grew from a boy to a man in these years and his narrative offers readers a remarkable coming of age story as well as a valuable eyewitness to history. Haigaz was able to escape to the United States in 1921.
Maiden Lane Press, 9781940210063, 396pp.
Publication Date: March 24, 2015