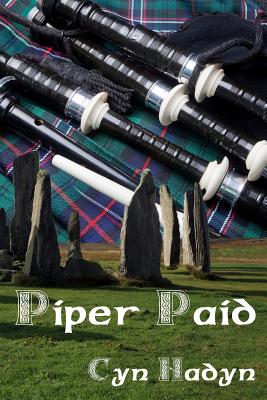 Piper Paid
Paperback

* Individual store prices may vary.
Description
It was to be a working vacation and a childhood dream come true. Alana MacLeod from Dunedin, Florida would learn how to use herbs to treat common ailments and, in lieu of course cost, would teach her Scottish instructor how to forage for and use edible plants in her cooking. Alana 's dream was to open her own business offering an unusual combination of herbal remedies, edible weeds, acupuncture and different styles of massage, but her renowned plastic surgeon father thought it New Age twaddle and refused to support her financially. Not unlike her stubborn MacLeod ancestors, Alana wouldn't take no for an answer and followed her beloved grandfather's example by joining the Marine Corps and serving two tours in Afghanistan to pay for the unusual classes she needed to open shop in Dunedin. One of her first stops when she reached Scotland was to honor her grandfather's memory by visiting the site of the famous Battle of Culloden and walk the moor where on April 16, 1746, the British forces of King George II destroyed the power of the Scottish clans. She and her grandfather had war-gamed the battle from the time she was able to understand strategy and tactics and, as she walked the terrain, she could almost feel the agony the clans must've experienced at such a major defeat. Once she left mainland Scotland for the Isle of Skye and the home of the renowned herbalist Annie MacCrimmon, her time in Skye flew by until she had but two last lessons to learn. The first of which was, never, ever summon a fairy as a lark because you wouldn't care at all for the results. Especially if you found yourself sent back to 1745 and given the task of saving a MacArthur piper's life as payment for the fairy's debt of honor. The second hard lesson learned was never put a ring you've just dug up in a patch of four leaf clover on your left ring finger. One, you wouldn't be able to get it off again and, two, you'd find yourself wed by clan custom to a MacArthur piper. If she did manage to save Alasdair MacArthur's life, the fairy had promised to send her back to her own century, but she'd been so flummoxed by the beautiful creature's appearance, she'd forgotten to ask what would threaten the piper's life so she could save him and, more importantly, what would happen if she failed. Alana is forced to call upon her knowledge of foraging and herbal remedies, her Marine Corps training and her MacLeod stubbornness to fit into eighteenth century Skye. Although the fairy hadn't given her a deadline, Alana had set one for herself. She'd convinced the MacArthur piper to handfast with her rather than an actual marriage, and so she would move heaven, hell and a certain fairy to see her mission was completed within a year and a day. But time was running out, and curse that tricky fairy, it was looking like the life threatening event Alasdair MacArthur needed saving from was the battle that would occur on Drumossie Moor on 16 April 1746.
Rebel Ink Press, 9781940315706, 290pp.
Publication Date: December 10, 2014
or
Not Currently Available for Direct Purchase