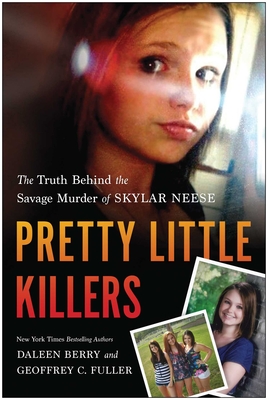 Pretty Little Killers (Paperback)
The Truth Behind the Savage Murder of Skylar Neese
Benbella Books, 9781940363103, 342pp.
Publication Date: July 8, 2014
Other Editions of This Title:
Digital Audiobook (10/27/2014)
MP3 CD (10/28/2014)
Compact Disc (10/28/2014)
* Individual store prices may vary.
Description
In Pretty Little Killers, journalist Daleen Berry and investigator Geoffrey Fuller expand upon their New York Times bestselling ebook The Savage Murder of Skylar Neese to give you even more information behind one of the most horrific and shocking murders of our time. Including over 100 pages of new material, Pretty Little Killers shares the latest theories and answers the questions that have left many people baffled. After killer Shelia Eddy pled guilty to first degree murder and was sentenced to life in prison and Rachel Shoaf was sentenced to thirty years for second-degree murder, family, friends, investigators, and other key sources reveal the facts you would have learned if the case had gone to trial. Including specific details drawn from Rachel's confession, Pretty Little Killers looks at the crime through the eyes of the victim and killers, providing intimate testimony from the pages of Rachel's personal journal, Skylar's diary and school papers, and court records. Berry and Fuller examine all this, including previously unreported details about Rachel and Shelia's rumored lesbian relationship and explain why more than one investigator believes Skylar's murder was a thrill kill. Most important, Pretty Little Killers provides a satisfying answer to Skylar's final question: "Why?"

About the Author
Daleen Berry is an enterprising writer whose national journalism career has seen her write about important social topics such as filicide-suicide, domestic violence murders, sexual crimes, and mental illness as a contributor to the Daily Beast, the Huffington Post, and xoJane. Berry's book, Sister of Silence, has received both critical and popular acclaim, while broadcast journalist and former NPR Morning Edition host Bob Edwards called Berry a "magnificent storyteller." Berry has become a national speaker at conferences, colleges, and schools around the country. Most recently, she was invited to give a TEDx talk at Connecticut College. In 2011, she founded Samantha's Sanctuary, a 501(c)3 charity to help educate and empower abused women and children. Berry has received awards for investigative journalism and for her weekly columns. In 2012, Berry's as-yet-unpublished book, Lethal Silence, took first place in the Pearl Buck Award in Writing for Social Change category, given jointly by West Virginia Writers and the Pearl S. Buck Birthplace Foundation. Geoffrey C. Fuller has made a living as a freelance writer-editor for 20 years, working with both fiction and nonfiction. He has edited literary and trade journals, as well as more than 75 books. Two titles he edited, The Devil's Son: Cap Hatfield and the End of the Hatfield and McCoy Feud and Monongah: The Tragic Story of the 1907 Monongah Mine Disaster, the Worst Industrial Accident in US History, were nominated by the Independent Book Publisher Association for Benjamin Franklin Awards. Monongah placed third nationally in 2008. His writing has appeared in newspapers and on radio, in literary and commercial magazines, and in anthologies, textbooks, and gift books. Fuller is the only writer to have been awarded prestigious West Virginia literary fellowships in all three categories: fiction, nonfiction, and memoir. In 2012, his crime fiction piece, "Figure-Ground," placed first in Writer's Digest's national contest. His novel, Full Bone Moon, was published in 2011 by Woodland Press.