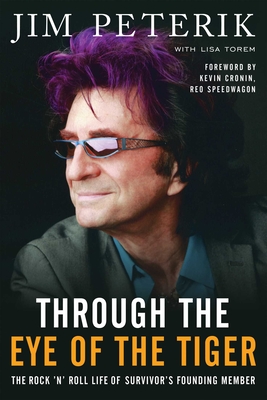 Through the Eye of the Tiger
The Rock #n' Roll Life of Survivor's Founding Member
Paperback

* Individual store prices may vary.
Description
"Hey, yo, Jim . . . This is Sylvester Stallone. Give me a call . . ."

It was these words that would set Jim Peterik on the road to rock 'n' roll immortality. After he and his Survivor bandmates recorded "Eye of the Tiger" for the Rocky III soundtrack, the song would go on to earn a Grammy, an Oscar nomination, reach triple platinum status—and become one of the most recognizable tunes in music history.

But there's much more to the story of Survivor and its founding member, Jim Peterik, than meets the eye. As one of the most prolific songwriters of his generation, Peterik has cowritten songs with some of the most famous bands and artists of our time, including 38 Special ("Caught Up in You," "Hold on Loosely"), Sammy Hagar ("Heavy Metal"), The Beach Boys, The Doobie Brothers, REO Speedwagon, Cheap Trick, and many more. Now, for the first time, Peterik is sharing his stories.

Filled with tales from Peterik's life in rock 'n' roll, Through the Eye of the Tiger documents his early days of success with The Ides of March ("Vehicle"), through the often torturous power struggles within Survivor, and the giddy highs that accompany a trail of worldwide hits. From going to a party in Led Zeppelin's hotel room (and turning right back out the door) to escorting a disoriented Janis Joplin back to her hotel room after opening her show in Calgary, Peterik's accounts will surprise and delight.

Through the Eye of the Tiger is more than just a memoir of a songwriting legend; it's a classic rock 'n' roll story told through the eyes of someone who has lived through it all—and through the Eye of the Tiger.
Praise For Through the Eye of the Tiger: The Rock #n' Roll Life of Survivor's Founding Member…
"The song Jim and Frankie wrote, 'Eye Of The Tiger,' was so amazing that when I first heard it I had to make sure I was not dreaming—a heart-pounding timeless rock masterpiece! Thank you, you made Rocky even more heroic."
—Sylvester Stallone

"The first time I met [Jim], we wrote a song together while sharing a spaghetti dinner at my favorite Italian Restaurant. I knew we had a hit..sure enough, that song 'That's Why God Make The Radio' became the title of the Beach Boys' highest debuting record (#3) in over 40 years."
—Brian Wilson

"We come from different worlds, but we speak the international language...M-U-S-I-C. I am honored to share a stage with him and call him friend. He's my Vehicle."
—Buddy Guy

"Jim Peterik is such an extraordinary songwriter, musician and human being. I believe he was put here on this earth to inspire us all with his words and melodies and he's done just that. Jim, you wrote a great book, great storytelling- such an adventure to read. Jimbo rides again!"
—Mindi Abair, Concord Records singer/saxophonist/songwriter and president of the LA chapter of NARAS

"For all of his encounters with the likes of Led Zeppelin, The Beach Boys, and of course Sylvester Stallone, Jim Peterik remains resiliently down-to-earth and refreshingly aware of his roots. Through The Eye Of The Tiger: The Rock 'n' Roll Life of Survivor's Founding Member by Jim with journalist Lisa Torem is a fascinating, revealing, and riotously entertaining book from a musical legend."
—John Clarkson, editor of Pennyblackmusic.com

"Jim Peterik takes his surroundings and experiences to build songs wherever he is. Through reading his memoirs, I have learned the inner workings of the man behind so many timeless classics."
—Andrew McNeice, melodicrock.com

"I've known Jim Peterik for almost 50 years and in that time saw him go from gawky teenage boy who wanted to be a rock and roller into one of the giants of that industry. This book tells it all, and this hometown boy couldn't be prouder."
—Joe Montegna, star of stage, screen, and television and star of hit series Criminal Minds

"If you bought a record with with a Jim Peterik tune on it, chances are that would be the one you'd find yourself singing along with before the first chorus ended. Jim's autobiography is powered by the same boundless enthusiasm and way with a hook that have helped his greatest hits endure for decades. This is one entertaining read."
—Jeff Giles, UltimateClassicRock.com

"It's no coincidence that Jim Peterik's most successful band was called 'Survivor.' Through The Eye Of The Tiger is Peterik's rock'n'roll saga, the engaging autobiography of a hit-making musician and songwriter who pursued his music with passion, power, and persistence... His new book tracks the highs and lows of his life in rock, with equal parts honesty, insight and irreverence."
—Ken Paulsen, music journalist, editor of Americana Music News

"In a tenacious business that eats its young and spits them out every fifteen minutes, Jim Peterik has proven to be the ultimate music survivor. Through the Eye of the Tiger offers proud testament to his enduring gift as and aritst/songwriter, hard fought integrity and unyeilding passion for his craft."
—Ken Sharp, award-winning music journalist and New York Times bestselling author of Nothin' to Lose: The Making Of KISS

"What is it that makes a listener turn the volume up when a song comes on? Energy? Excitement? Emotional connection? Jim Peterik's songs have all that. But there's an extra 'it' factor—that 'something else' in his songs. Same way with Jim himself. Jim continues to impress me with his generosity of spirit and humanity as he strives to inspire others to find their own 'Eye Of The Tiger.'"
—Sherrill Blackman, multi-time winner of Nashville Song Plugger of the Year
BenBella Books, 9781940363165, 352pp.
Publication Date: September 23, 2014
About the Author
What do Survivor, The Ides Of March, .38 Special, Sammy Hagar, and The Beach Boys have in common? The uncommon songwriting, vocal, and production talents of Jim Peterik.

In high school, Peterik put together his first band, The Ides Of March, whose single "Vehicle" hit No. 2 on the Billboard chart. Just out of high school, the band did shows with Led Zeppelin, The Grateful Dead, Janis Joplin, and many more.

In 1977, Jim founded one of the premier rock bands of the '80s: Survivor. After two critically acclaimed albums, he received a call from Sylvester Stallone to write a song for an upcoming movie. With worldwide sales now reaching 30 million, the Peterik/Sullivan-penned anthem "Eye Of The Tiger" became the title song of Rocky III and one of the most popular motivational anthems of all time.

Peterik garnered 18 Top 10 hits, including "Hold On Loosely," "Caught Up In You," "Rocking Into The Night," and "Fantasy Girl." With Peterik's Songwriting for Dummies now a bestseller, he is traveling the world doing songwriting seminars. Ides Of March recently celebrated 50 years of making music together.

Lisa Torem has conducted more than 100 interviews with rock personalities, but she is especially excited about the one that ultimately led to her collaboration with Jim Peterik on Through the Eye of the Tiger. Her features, profiles, and reviews have appeared in Popmatters, Windy City Times, New City, The Chicago Reader, and Pennyblackmusic, where she launched "Rock Salt Row," a debate forum, and "Raging Pages," for literary reviews.

Lisa's multicultural album, Singlish, has been performed at the Chicago Cultural Center, and her one-act play, Dog Sharing was produced by Love Creek Theater, Manhattan. Her instrumental/vocal music has appeared on educational tapes and in Chicago theaters. A voting member of The Recording Academy, she lives in Chicago with her blues-harpist husband, rock 'n' roll daughters, and quartet of cats.