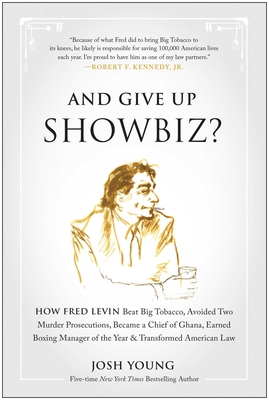 And Give Up Showbiz?
How Fred Levin Beat Big Tobacco, Avoided Two Murder Prosecutions, Became a Chief of Ghana, Earned Boxing Manager of th
Hardcover

* Individual store prices may vary.
Description
In the early '90s, Big Tobacco was making a killing. There was no entity more powerful, and national tobacco-related deaths numbered in the hundreds of thousands each year. The economic loss from smoking-related illnesses was billions of dollars. And yet, Big Tobacco had never paid a nickel in court. Until one Southern, small-town lawyer figured out how Florida could sue Big Tobacco to reimburse the state for health care costs. The end result? Beyond the $13 billion settlement, hundreds of thousands of American lives have been, and will continue to be, saved. Meet Fred Levin. Called by his own son "a philanthropist and a cockroach," Fred Levin is no ordinary attorney, and his remarkable story is far from squeaky clean. In And Give Up Showbiz?, New York Times bestselling author Josh Young works closely with Levin to give readers a glimpse into the extraordinary and entertaining life of the top trial lawyer who was a pioneer in establishing American personal injury law. Seen as an inspiring innovator by some and a flamboyant self-promoter by others, Levin has not only fought against Big Tobacco, he has won victories for women, African Americans, and workers everywhere. Levin's unprecedented legal career is just one aspect of his roller-coaster life story. From managing one of the world's greatest boxers to avoiding multiple disbarment attempts, and from becoming a chief in the country of
Ghana to even being a person of interest in two separate murder investigations, his story reads like a novel suitable for the silver screen. And Give Up Showbiz? is both shockingly candid and wildly funny.

Benbella Books, 9781940363189, 236pp.
Publication Date: September 16, 2014
About the Author
Josh Young is a bestselling author whose works spans entertainment, business, politics, science and natural history. He has coauthored five "New York Times" bestsellers and two national bestsellers. He is the coauthor of comedian Howie Mandel's "Here's The Deal: Don't Touch Me," "You're Only As Good As Your Next One with Mike Medavoy," "Dr. Sam Parnia's Erasing Death: The Science That Is Rewriting The Boundaries Between Life And Death, " and "The Link: Uncovering Our Oldest Ancestor with Colin Tudge," which has been translated into five languages. Additionally, he is the coauthor of "Pure Imagination: The Making of 'Willy Wonka and the Chocolate Factory'" and David Attenborough's First Life: A Journey Back in Time with Matt Kaplan." On the film side, Josh served as Production Consultant on "White House Down" (June 2013). As a journalist, Josh has contributed to "George" magazine, "Entertainment Weekly," "LIFE" magazine, "The New York Times Sunday," "The New Republic," "Details," "The (London) Sunday Telegraph," and "Los Angeles."
or
Not Currently Available for Direct Purchase