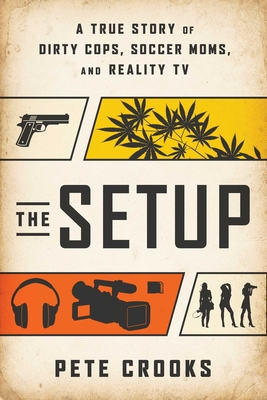 The Setup (Hardcover)
A True Story of Dirty Cops, Soccer Moms, and Reality TV
Benbella Books, 9781940363318, 320pp.
Publication Date: January 13, 2015
* Individual store prices may vary.
Description
The pitch went like this Chris Butler, a retired cop, ran a private investigator firm in Concord, California. His business had a fascinating angle--his firm was staffed entirely by soccer moms. In fact, Butler employed PI Super Moms: attractive, organized, smart, and trained in investigative techniques, self-defense, and weaponry. This American Life host Ira Glass described them as "MILF: Charlie's Angels." When this story came across Pete Crooks's desk when he was working at Diablo magazine in 2010, he was instantly hooked. He'd heard a little bit about Butler and his super moms in the news; they'd been featured in People magazine and on Dr. Phil. What Butler's publicist was offering was too tantalizing to pass up: an opportunity to ride along with Butler and a few of his sexy PIs as they prepared to start filming a reality TV show. But after the ride-along--and after he started receiving mysterious emails from one of Butler's employees--Crooks started to realize something didn't seem right. After doing a little digging, he discovered the "sting" he'd seen only had one real victim...him. The PI bust had been a setup. Crooks wasn't a hardboiled crime reporter. He did lifestyle pieces for a regional magazine. The more he learned about Butler's operation, the more he realized he was in far over his head. But swallowing his fears, he decided he was going to write an expose on Butler and his entire organization. He soon found himself deep in the underbelly of fake sting operations, wannabe celebrities, police corruption, drug-dealing, reality television, double-crossing employees, and more twists and turns than a dozen crime thrillers.
About the Author
Pete Crooks is a Bay Area-based journalist, and the author of the seminal investigative story about one of the Bay Area's most sensational crime and corruption stories in recent history. For the past 14 years, Crooks has been one of the editors of Diablo magazine, and was on assignment for the magazine when he broke the incredible crime scandal detailed in The Setup: A True Story of Soccer Moms, Dirty Cops, and Reality TV. Crooks's reporting on this stranger than fiction story about reality show wannabes, duplicitous soccer moms, and a conspiracy involving corrupt cops and a sociopath private investigator received national acclaim, inspiring episodes of the award-winning radio program This American Life and 48 Hours on CBS news, for which Crooks served as an official consultant.