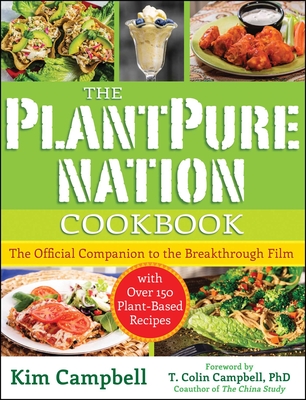 The PlantPure Nation Cookbook
The Official Companion Cookbook to the Breakthrough Film...with over 150 Plant-Based Recipes
Paperback

* Individual store prices may vary.
Description
A revolution has begun...

From a creative team that includes the producer and writer of Forks Over Knives, the documentary film PlantPure Nation captures the inspiring story of plant-based nutrition's impact on a small town in the rural South and the effort to bring about historic political change. As the film's official companion cookbook, The PlantPure Nation Cookbook brings this powerful, science-based approach to nutrition from the big screen to your kitchen with some of the same mouthwatering recipes that kick-started the revolution, promoting the health benefits of a whole food, plant-based diet.

Author Kim Campbell is the wife of PlantPure Nation Executive Producer and Director Nelson Campbell and daughter-in-law of Dr. T. Colin Campbell, coauthor of The China Study and father of the modern plant-based nutrition movement. She is also a culinary contributor, recipe developer, and cooking instructor at Campbell Wellness, a health and wellness business. In PlantPure Nation Cookbook, she shares more than 150 extensively tested, 100% plant-based recipes that she has created and cultivated over 25 years of vegan cooking, such as:

Buffalo Beans and Greens
No-Bake Chocolate Pumpkin Pie
Spinach Lasagna
Green Pepper Tofu Scramble
Reuben Casserole

With a foreword by Dr. Campbell, The PlantPure Nation Cookbook is also filled with tips, tricks, and grocery lists for people interested in a whole food, plant-based diet. And with intimate background and behind-the-scenes details from PlantPure Nation film, this companion cookbook is a must-have for stimulating healthful eating in your home.

Join the revolution to jumpstart your health!
Praise For The PlantPure Nation Cookbook: The Official Companion Cookbook to the Breakthrough Film...with over 150 Plant-Based Recipes…
"One doesn't have to be a vegetarian to thoroughly enjoy vegetarian food! . . . Behind-the-scenes details from the popular PlantPure Nation film further enhance this superb choice."
—Midwest Book Review
BenBella Books, 9781940363684, 320pp.
Publication Date: March 24, 2015
About the Author
Kim Campbell is the daughter-in-law of Dr. T. Colin Campbell, considered by many as the "science father" of the rapidly growing plant-based nutrition movement. She works with her husband, Nelson, in a health and wellness business promoting a whole-food, plant-based diet. This experience has allowed her to hone her culinary skills, especially in understanding how to create flavors, textures, and presentations that appeal to mainstream consumers experiencing a plant-based diet for the first time. Kim holds a bachelor's degree from Cornell University in Human Service Studies, with a minor in Nutrition and Child Development.