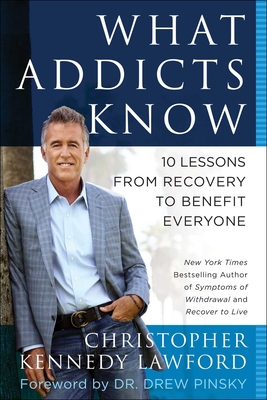 What Addicts Know
10 Lessons from Recovery to Benefit Everyone
Paperback

* Individual store prices may vary.
Other Editions of This Title:
Hardcover (1/7/2014)
Description
New York Times bestselling author Christopher Kennedy Lawford revisits addiction in his latest book, What Addicts Know, this time framing the discussion in an entirely new way--the lessons addiction and recovery offer to those of us who haven't battled addiction. For too long, society has considered addicts as an unfortunate group that faces incredible and unique challenges. The reality is that the challenges of the addict are faced--to a greater or lesser extent--by all of us. In a "more is better" society, it's indisputable that we've all experienced cravings and denied the truth about our destructive behaviors--traits shared by addicts who've successfully overcome them. What Addicts Know offers the coping and wellness skills necessary to overcome life's obstacles and self-improvement tips for everything from conquering an unhealthy consumption of junk food, to overcoming toxic relationships. These techniques are not just for addicts; they are for all of us. No one until now has related the lessons and life skills that can be drawn from the collective experience of people in recovery from addiction, particularly the ways those lessons or principles can be used by those in the broader non-recovery community. In What Addicts Know, Lawford recounts the inspiring stories and wisdom of recovering addicts, combining them with cutting-edge scientific findings to give hands-on, practical techniques for recognizing unhealthy impulses and managing them. If you're ready to change for the better your habits, your frame of mind, your relationships, your community, and your life, What Addicts Know is the resource that will educate and inspire you along the way.
Benbella Books, 9781940363745, 240pp.
Publication Date: August 25, 2015
About the Author
Christopher Kennedy Lawford spent 20 years in the film and television industries as an actor, lawyer, executive and producer. He is the author of two New York Times bestselling books, Symptoms of Withdrawal (2005) and Moments of Clarity (2009). In recovery for more than 25 years from drug addiction, Lawford campaigns tirelessly on behalf of the recovery community in both the public and private sectors. He presently works with the United Nations, the Canadian Center on Substance Abuse, the White House Office on Drug Control Policy, and the World Health Organization. He also consults with Fortune 500 companies and numerous non-profit groups, speaking around the world on issues related to addiction, mental health, and Hepatitis C. In 2009, California Governor Arnold Schwarzenegger appointed Lawford to the California Public Health Advisory Committee. In 2011, Lawford was named Goodwill Ambassador for the United Nations Office on Drugs & Crime to promote activities supporting drug treatment, care and recovery. He also serves as national advocacy consultant for Caron Treatment Centers. Lawford holds a bachelor of arts from Tufts University, a juris doctor from Boston College Law School, and a masters certification in clinical psychology from Harvard Medical School where he held an academic appointment as a lecturer in psychiatry. Christopher lives in Santa Monica, CA, United States.
or
Not Currently Available for Direct Purchase