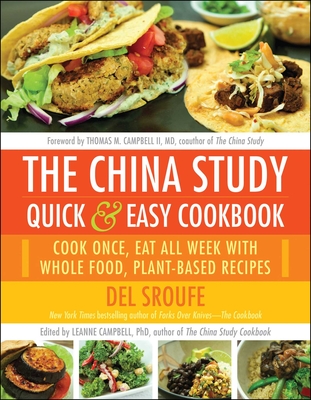 The China Study Quick & Easy Cookbook
Cook Once, Eat All Week with Whole Food, Plant-Based Recipes
Paperback

* Individual store prices may vary.
Other Editions of This Title:
Paperback, Spanish (6/30/2017)
Description
Following the plant-based nutrition regimen presented in The China Study is now easier than ever before.

When it comes to meal planning, do you find yourself deciding between healthy foods and quick options? Do you stare at the contents of your fridge, wondering what you can easily throw together?

Even on a busy schedule, your meals can be simple, healthy, and delicious!

You shouldn't have to sacrifice health or taste for efficiency in the kitchen. Nobody knows this better than Chef Del Sroufe, author of the New York Times bestseller Forks Over Knives—The Cookbook and Better Than Vegan. In The China Study Quick & Easy Cookbook, Sroufe provides menu plans, pantry lists, and more than 100 delicious plant-based recipes that are quick, easy, and multipurpose.

Edited by LeAnne Campbell, author of The China Study Cookbook, this book guides you to spend a couple of hours one day a week preparing meals ahead of time. Every dish follows the nutrition standards set forth by The China Study, ensuring optimal healthful and quality eating with whole food recipes such as:

   • Fruit and Vegetable Curry
   • Mushrooms Barbacoa
   • Cauliflower Parmesan 
   • Sweet Potato Pie Muffins 
   • Banana-Coconut Macaroons


With a foreword by The China Study coauthor Thomas Campbell, The China Study Quick & Easy Cookbook is the next step in transforming your kitchen, your time, and your life.
Praise For The China Study Quick & Easy Cookbook: Cook Once, Eat All Week with Whole Food, Plant-Based Recipes…
"Del is a genius with food, and even my carnivorous friends are fans of his cuisine. This cookbook makes the best of plant-based eating available to everyone!"
—Pamela A. popper, Ph.D., N.D., featured in Forks Over Knives and president and founder of The Wellness Forum

"Another delicious winner from the talented Chef Del Sroufe. This delightful, step-by-step recipe collection makes it easy, tasty and totally doable for anyone to adopt a plant-based diet. . . . Fun, filling, fabulous and festive—The China Study Quick & Easy Cookbook will make a welcome addition in everyone's kitchen!"
—Laura Theodore, "The Jazzy Vegetarian"
BenBella Books, 9781940363813, 256pp.
Publication Date: May 19, 2015
About the Author
Del Sroufe's passion for cooking began at eight years old and never faded. In 1989 he went to work for one of Columbus' premier vegetarian restaurants, the King Avenue Coffeehouse, where he honed his craft as a baker and chef. Sroufe opened Del's Bread, a vegan bakery, before beginning vegan meal delivery service in 2001, serving eclectic plant-based cuisine to Columbus residents. During this time, he developed what became a very popular cooking class series, sharing many of the delicious recipes he had created over the years.

In 2006, Sroufe joined Wellness Forum Foods as co-owner and chef, where he continued the tradition of delivering great tasting, plant-based meals to clients in Columbus as well as throughout the continental U.S. Sroufe also joined The Wellness Forum as a member where, after a lifetime of yo-yo dieting, he has lost over 200 pounds on a low fat, plant-based diet. He continues to teach cooking classes at local venues like Whole Foods, Community Recreation Centers, and The Wellness Forum. Sroufe is the author of Forks Over Knives—The Cookbook, a vegan cookbook companion to the acclaimed documentary Forks Over Knives.

LeAnne Campbell, PhD, lives in Durham, North Carolina. She has been preparing meals based on a whole-food, plant-based diet for almost 20 years. Campbell has raised two sons—Steven and Nelson, now 18 and 17—on this diet. As a working mother, she has found ways to prepare quick and easy meals without using animal products or adding fat.