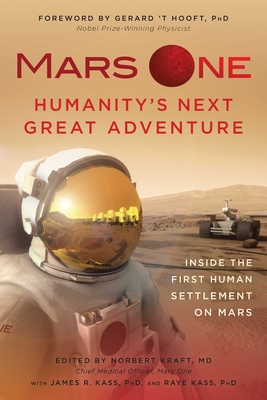 Mars One (Paperback)
Humanity's Next Great Adventure: Inside the First Human Settlement on Mars
Benbella Books, 9781940363837, 304pp.
Publication Date: February 23, 2016
* Individual store prices may vary.
Description
Human curiosity has led us to explore our solar system, landing on the moon and sending spacecraft to study distant planetary objects. The next step in our great adventure is putting humans on Mars, but what will it really take to achieve this? In 2011, Mars One announced its intentions to establish a permanent human settlement on Mars beginning as early as 2024; in 2013 it launched its astronaut-selection program and received thousands of applications. The highly anticipated Mars One documentary series will provide a window into the captivating details of the crew selection and training process, allowing the whole world to follow along as Mars' first settlers prepare for their mission. Now, with Mars One: Humanity's Next Great Adventure, you can step even further inside the experience of these astronaut pioneers and explore the various human dimensions of Mars One's planned expeditions. Edited by Norbert Kraft, MD, Mars One's Chief Medical Officer and head of crew selection and training, as well as crew selection and training committee members James R. Kass, PhD, and Raye Kass, PhD, this collection of essays from scientists, psychologists, and more provides a behind-the-scenes look at the process and criteria used to choose candidates, fascinating details about what they'll learn, and predictions about their future lives on Mars. Inside, you'll find in-depth discussions of: The essential skills and training the Mars One astronauts will need to journey to and then survive on Mars, from technical and medical know-how to the interpersonal skills necessary for working in confined quarters so far from home
The challenges of going through the selection and training process while being watched by millions around the world, and what Mars One hopes watching the process will mean for viewers at home
Inside information, including images, on the planned Mars One habitats and colonization timeline
What settlers can expect on Mars, from daily work activities in a hostile environment to communication with Earth and options for leisure time The book also includes excerpts from candidate questionnaires, allowing readers to enter the minds of prospective Martians like never before.
About the Author
Norbert Kraft, MD, received "The NASA Group Achievement Award 2013," one of the most prestigious awards a group can receive, presented to selected groups who have distinguished themselves by making outstanding contributions to the NASA mission. In 2010, Kraft received the 2010 Award for "Outstanding Accomplishments in the Psychological and Psychiatric Aspects of Aerospace Medicine." He has over 20 years of experience in aviation and aerospace research and development. His primary area of expertise is developing physiological and psychological countermeasures to combat the negative effects of long-duration spaceflight. Dr. Kraft's experiences span Europe, Asia, and the United States, where he has worked for several international space agencies, including the Russian Space Agency and the Japanese Space Agency. Dr. Kraft is an author of over 40 papers in the field of aerospace medicine, including a seminal paper on intercultural crew issues in long-duration spaceflight. He has an M.D. from University of Vienna, Austria, and is a Fellow of the Aerospace Medical Association. Dr. James R. Kass has been working in the field of human spaceflight for more than 30 years. He was an investigator on the first Spacelab mission in the early 80s in the field of neurophysiology. In the decade following, he gained industrial experience at several aerospace companies in Germany, before joining the European Space Agency at its research and technology centre, ESTEC, in the Netherlands. Dr. Kass has trained astronauts and worked on the ground operations teams for several Spacelab /Space Shuttle and MIR missions (including the tragic STS-107), with crews from Russia, USA, Middle and Far East, and several European countries. He has also worked with cosmonauts of the former Salyut space station and astronauts of the first US space station, Skylab. He has participated as scientist and reviewer in several isolation experiments investigating psychology of long-duration isolation, as one will certainly encounter on Mars. Dr. Raye Kass, Professor of Applied Human Sciences at Concordia University, Montreal, Canada, currently spearheads group theory courses in both the undergraduate and graduate level. Dr. Kass has been highlighted frequently by both national and international press agencies for both her space sciences and group theory research. Dr. Kass has also been invited to be involved in numerous space research projects in conjunction with the Canadian Space Agency and NASA, including the Psychological Experiment / Training Programme for the CAPSULS Mission held in Canada, the SFINCCS mission held in Russia, and the NSBRI (National Space Biomedical Research Institute) Ground-based Research Project with the NASA Ames Research Centre in the USA. Dr. Kass is the author of Theories of Small Group Development, as well as the coauthor of three other books on group theory.
or
Not Currently Available for Direct Purchase