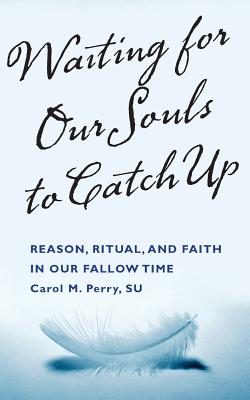 Waiting for Our Souls to Catch Up
Paperback

* Individual store prices may vary.
Description
One of the "Best Books of 2014" AARP "Bring your highlighter and your sense of wonder to a comfortable chair and marvel at what you didn't know about Biblical history. Waiting for Our Souls to Catch Up is a must read for all those seeking a spiritual peace in a high-tech world. But most of all bring your appreciation of Sister Carol Perry's scholarly brilliance in refining prayer, faith, and grace. I love this book. I will always have two, my annotated one and another one to give away." - Rolland G. Smith, Broadcast journalist, author, and poet In our frantic world, we all need time to stop and breathe. But how can we nurture our inner beings when the outer world demands so much? Waiting for Our Souls to Catch Up invites readers to begin a journey of the heart and mind in which a small effort of faith, guided by reason, can yield huge spiritual dividends. From the small rituals that enhance our daily lives to the study of the historical and scriptural legacy shared by the world's great religions, Waiting For Our Souls To Catch Up is an intelligent reader's guide to the wisdom of the ages. Sister Carol Perry is the "nun in the basement" at Marble Collegiate, the oldest Protestant congregation with continuous service in North America, made famous by Norman Vincent Peale (The Power of Positive Thinking). A Catholic nun, Sister Carol has been the Resident Bible Scholar at Marble for three decades. She is the co-author of Called and Sent and has been a recipient of two National Endowment for the Humanities grants. She was selected as an Educator of the Year by the Association of Teachers of New York and has lectured across the country on scripture, Christian feminism, and the role of women in the Biblical world. A Sister of St. Ursula, she is a graduate of Fordham University and earned an M.A. in Theology at St. Mary's, Notre Dame. Her writing has appeared on Huffington Post's "On Scripture" feature: http: //www.huffingtonpost.com/sister-carol-perry/ Read Sister Carol's blog at: http: //www.marblechurch.org/connect/blogs/sister-carol-perry
Asahina & Wallace, 9781940412108, 156pp.
Publication Date: April 6, 2014
or
Not Currently Available for Direct Purchase