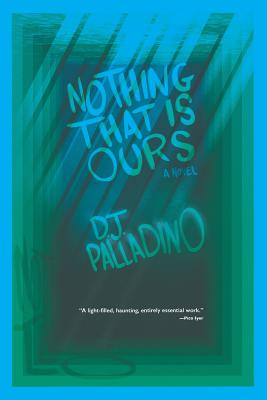 Nothing That Is Ours
Paperback

* Individual store prices may vary.
Other Editions of This Title:
Paperback (10/16/2020)
Description
On a gray winter day in 1958, the body of a man washes up on Santa Barbara's breakwater. He has wounds much like those of the crucified Christ. Trevor Westin, a young writer with deep family connections to the city, sees murder where the local press and powers that be see only a simple case of drowning. Trevor goes on a dangerous search for answers. Along the way he will cross paths with beatniks, beach bums, Aldous Huxley, Dennis Hopper, and agents from the CIA. He will also be introduced to the brave new world of hallucinogenic drugs. Meanwhile, off the coast of Santa Barbara, at the bottom of the sea . . .
"In his visionary and completely original debut, D.J. Palladino shows us how the California of Raymond Chandler turned into the land of Huxley and Pynchon and blew the mind (while transforming the consciousness) of the world. This is a light-filled, haunting, entirely essential work whose afterglow grows steadily more and more intense."--Pico Iyer, author of Video Night in Kathmandu and The Lady and the Monk.
"Vivid, rich, and poignant, Nothing That Is Ours is full of heartbreak and insight, a noirish glimpse insto the Santa Barbara of the fifties. Unforgettable."--Meg Gardiner, Edgar Award-winning author of China Lake and The Memory Collector.
"D.J. Palladino has crafted an impressive debut novel that's a real page-turner. Gripping and atmospheric: part mystery, all engrossing. It's a fascinating read that leaves you wanting more."--Tab Hunter, actor in Damn Yankees, The Pleasure of His Company, and Ride the Wild Surf.
"Move aside Carey McWilliams and Nathanael West. D.J. Palladino fuses luridly delicious details of neo-revisionist California history with the narrative flow one might expect if Raymond Chandler ever bumped into Thomas Pynchon at a drunken party. In the process, Palladino manages to save Santa Barbara from the burden of its obviousness, giving readers a rare glimpse of the town--during the late 1950s--when it was just becoming what it eventually would be."--Nick Welsh, senior news editor, Santa Barbara Independent.
Asahina & Wallace, 9781940412207, 394pp.
Publication Date: March 22, 2017
or
Not Currently Available for Direct Purchase