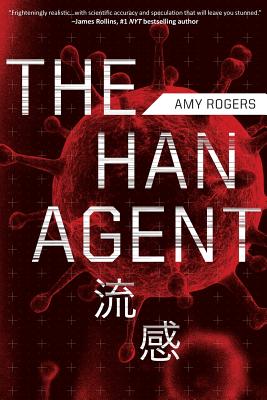 The Han Agent (Microes #1) (Paperback)
Sciencethrillers Media, 9781940419152, 260pp.
Publication Date: September 5, 2017
* Individual store prices may vary.
Description
**Foreword INDIES Book of the Year Awards Finalist**
Modern biotechnology propels an ancient ethnic rivalry to a terrifying new level...
In the 1930s, Japanese scientists in China committed heinous crimes in their quest for the ultimate biological weapon.
The war ended. Their mission did not.
Eighty years later, Japanese-American scientist Amika Nakamura won't let rules stand between her and scientific glory. When the ambitious young virologist defies a ban on the genetic manipulation of influenza, she's expelled from the university. Desperate to save her career, she accepts a position with a pharmaceutical company in Tokyo. Soon after, a visit to a disputed island entangles her in a high-profile geopolitical struggle between Japan and China. Applying her singular expertise with bird flu in a risky experiment may be the only way out. Little does she know that Japanese ultranationalists and a legacy of unpunished war crimes lurk in the shadows, manipulating people, politics, and science.
But DNA doesn't lie. Amika uncovers a shocking truth: a deadly virus is about to put the "gene" in genocide.
Praise for THE HAN AGENT:
"Amy Rogers's latest medical thriller is as exciting as it is frighteningly realistic. It could be tomorrow's headline. Here is a story fraught with tension, and threaded through with scientific accuracy and speculation that will leave you stunned."--James Rollins, #1 New York Times bestselling author of Sigma Force series
"In a stunning 'what-if' author-immunologist Amy Rogers resurrects the idea of Unit 731, Japan's notorious wartime biological weapons division, weaving together a diabolical tale of science, genocide, and modern-day bio-terror. Sobering, suspenseful, and absolutely chilling."--Barry Lancet, award-winning author of The Spy Across the Table and Tokyo Kill
"The Han Agent will get your heart pounding and your blood boiling. Putting huge swaths of humanity in its crosshairs, this pressure cooker of a thriller portrays with chilling realism how individuals can use specialized scientific knowledge for good or evil."--J.E. Fishman, bestselling author of Primacy and the Bomb Squad NYC series