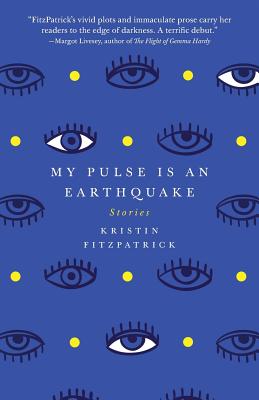 My Pulse Is an Earthquake (Paperback)
Vandalia Press, 9781940425726, 220pp.
Publication Date: September 1, 2015
* Individual store prices may vary.
Description
The nine stories in My Pulse Is an Earthquake take place in the clutches of grief. Characters struggle to make sense of sudden losses of life, love, and community. From 1970 to the present day, children and young adults from the Rockies to the Appalachian Mountains guide readers through the valleys of their lives as dog breeders, immigrants, Catholic school delinquents, rookie policewomen, drummers, ballerinas, teenage brides, and an accountant who keeps a careful inventory of losses. 
In each story, we see the darkness that can surface during the happy moments in life—weddings, births, promotions, the opening night of a director's favorite play, or the best performance of a dancer's career, when no one important is there to watch. We enter daydreams and night terrors where the dead are within reach, pointing out how they could have been saved. We wear their clothes and carry their teddy bears or vinyl records everywhere. We crawl around in caves and pound hammers into walls until our own hearts stop beating. 
This collection explores how the unexpected harm to young, vibrant loved ones—from murder, kidnapping, battle, accident, natural disaster, swift illness, or stillbirth—can rupture families, and how the most unlikely healers can bring together those who remain.
My Pulse Is an Earthquake
 will be performed on stage by The New Short Fiction Series in Hollywood, an event sponsored by Barnes & Noble.
About the Author
Born in suburban Detroit, Kristin FitzPatrick grew up surrounded by music and books. She fell in love with old movies, photography, endurance running, and poetry before she started writing seriously. Her inspiration has come from music and from the people she met while working as a stagehand, nanny, waitress, editorial assistant, and English conversation teacher. Kristin earned degrees from Michigan State, DePaul University in Chicago, and Cal State Fresno, where she began writing and publishing some of the stories in this collection.A semifinalist for the 2014 Mary McCarthy Prize in Short Fiction, Kristin is the recipient of residencies from Jentel and The Seven Hills School in Cincinnati, where she held a creative writing teaching fellowship. Her work has been chosen for the Thomas Wolfe Fiction Prize and has appeared in publications such as
Colorado Review
,
The Southeast Review
,
Epiphany
, and
The Best of Gival Press Short Stories
, as well as on stage in Sacramento and Los Angeles. Kristin and her husband live in Southern California, among stacks of vinyl records and books. She's working on a novel and teaching writing to students whose stories inspire her to wake early, turn the volume up, and listen for more.
My Pulse is an Earthquake
is her first book. Learn more at 
www.kristinfitzpatrick.com
.
Praise For My Pulse Is an Earthquake…
"My Pulse Is an Earthquake offers some of the most beautiful prose I've read in a long time, along with some of the most memorable characters. There's magic between these covers.  I loved every word, and I'll be reading every word she writes from now on."
Steve Yarbrough, author of The Realm of Last Chances
"Kristin FitzPatrick has a gift for creating wholly formed worlds—simultaneously familiar and unique—that she invites us to enter while she spins out richly layered stories quite unlike any we've heard before. My Pulse Is an Earthquake is a truly masterful debut collection to settle into and savor."
Stephanie G'Schwind, editor of Colorado Review
"Bold and refreshingly original, this debut work of fiction is astonishing. FitzPatrick spins out intriguing and richly textured stories, and in doing so reveals the dreams and struggles of children, aspiring artists, and working-class adults. With compassion and insight, these interlinked stories help us fathom the extraordinary vividness of ordinary life."
Laura Long, author of Out of Peel Tree