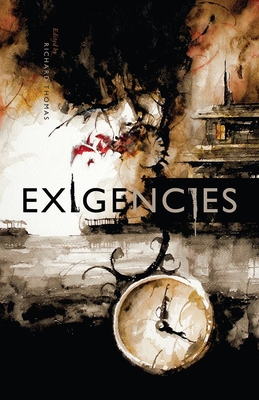 Exigencies (Paperback)
A Neo-Noir Anthology
Dark House Press, 9781940430492, 320pp.
Publication Date: June 9, 2015
* Individual store prices may vary.
Description
Edited by Richard Thomas
Foreword by Chuck Wendig Cover art by Daniele Serra
Interior illustrations by Luke Spooner TABLE OF CONTENTS: Wilderness by Letitia Trent
Monster Season by Joshua Blair
Cat Calls by Rebecca Jones-Howe
Ceremony of the White Dog by Kevin Catalano
The Armadillo by Heather Foster
The Manuscript by Usman T. Malik
Single Lens Reflection by Jason Metz
The Mother by Nathan Beauchamp
Everything in Its Place by Adam Peterson
When We Taste of Death by Damien Angelica Walters
Figure Eight by Brendan Detzner
My Mother's Condition by Faith Gardner
Fragile Magic by Alex Kane
The Eye Liars by Sarah Read
Searching for Gloria by W. P. Johnson
And All Night Long We Have Not Stirred by Barbara Duffey
Dull Boy by David James Keaton
Brujeria for Beginners by Marytza Rubio
Heirloom by Kenneth Cain
The Owl and the Cigarette by Amanda Gowin
Desert Ghosts by Mark Jaskowski
Blood Price by Axel Taiari

About the Author
Richard Thomas is the author of six books--Disintegration, The Breaker, Transubstantiate, Herniated Roots, Staring Into the Abyss and The Soul Standard. His over 100 stories in print include Cemetery Dance, PANK, Gargoyle, Weird Fiction Review, Midwestern Gothic, Arcadia, Qualia Nous, Chiral Mad 2, and Shivers VI.