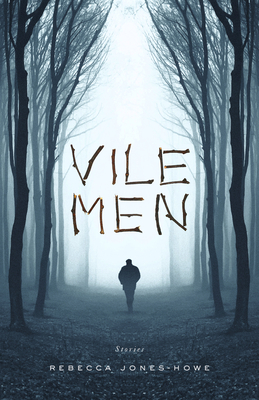 Vile Men (Paperback)
Dark House Press, 9781940430515, 170pp.
Publication Date: September 8, 2015
* Individual store prices may vary.
Description
Vile Men is a collection of fourteen short stories that are transgressive in nature, filled with heart and emotion, leaving you sweaty and spent, your heart pounding in your chest. Stolen moments on the subway, fear of intimacy, sexual perversion and dark fears come home to roost all unite in a powerful mixture of literary fiction, contemporary fairy tales, and late night confessions. Shocking and yet touching, unnerving and yet brutally honest, Rebecca Jones-Howe is an emerging author that you'll want to keep an eye on. ADVANCE PRAISE: "Rebecca Jones-Howe's Vile Men is an exciting, dark, sexy collection that is convulsively beautiful and bright. Each story digs a great hole and is filled with the most savage, brutal, human emotions: love, desire, addiction and the impossibility of satisfaction."
--Antonia Crane, author of Spent "Rebecca Jones-Howe fearlessly tackles the ugliness most of us manage to hide. Each broken character blurs the lines between villain and victim as they bathe in sex, horror, dignity, want, resignation, and darkness. Vile Men is the handbook to uncovering your damage."
--Mercedes M. Yardley, author of Pretty Little Dead Girls "Rebecca Jones-Howe takes you on a tour of the human psyche that is dark, disturbing, and exquisitely written. The sentences in this book are the best kind of dangerous. Just when you think you're safe another one comes along and draws blood."
--Rob Hart, author of New Yorked "Rebecca Jones-Howe's Vile Men shows us characters driven by desperation to do violence to themselves or others, but behind these sharp stories about the horror of gender and sex is an empathetic insight into human weakness. Jones-Howe might bring us to the darkest parts of the human heart, but her stories remind us that we are all a little bit vile, too."
--Letitia Trent, author of Echo Lake "Vile Men is dark, provocative stuff. The men found within these pages are indeed bad news, but the most dangerous paths aren't always led by them, as Rebecca Jones-Howe's narrators take us right past the expected awfulness of dead-end, drug-addled relationships, bad sex on ant hills, or navigating the treacherous rubble of the bar scene, where her women can find satisfaction and even surprise flashes of triumph amongst all the emotional jetsam. "There's a certain kind of man who goes for damaged girls," she writes. They may be broken, but as vile as these men may be (and always such needy little beasts) they don't get to have everything." --David James Keaton, author of The Last Projector
About the Author
Rebecca Jones-Howe has had work published, or is forthcoming, in PANK, Punchnel's, Pantheon Magazine, Out of the Gutter, Pulp Modern, and Pulp Metal. She was also the winner of the 2012 WAR writing competition at LitReactor.com.
or
Not Currently Available for Direct Purchase