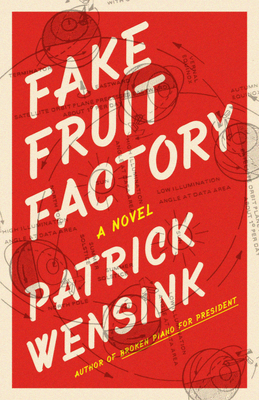 Fake Fruit Factory (Paperback)
Curbside Splendor Publishing, 9781940430560, 350pp.
Publication Date: September 15, 2015
* Individual store prices may vary.
Description
Fake Fruit Factory is a stick-slapping, gut-punching comedic novel about the eccentric small town of Dyson, Ohio. When NASA determines an errant satellite will crash there, the town's young mayor uses the ensuing media circus to attract tourism and save his bankrupt rust belt community. Unless, of course, the satellite completely wipes it from the map. In Fake Fruit Factory, Wensink's motley cast of characters are the heart of "America's Boringest City." Bo Rutili is Dyson's 26-year-old mayor, who relieves stress with copious doses of hand sanitizer. Donna "Urinating Bear" Queen uses her recent lottery spoils to convince the town she's the only one who can save it. And Old Man Packwicz, Dyson's aging ex-mayor, might finally save the town via a filet-mignon wielding, toilet paper-clad mummy. Fake Fruit Factory hilariously captures the peculiarities of small town life through the story of a wacky community finding its place in contemporary America.

About the Author
Patrick Wensink is the author of three works of fiction, including the bestselling Broken Piano for President, and a forthcoming essay collection. He frequently contributes to publications like New York Times, Oxford American, Salon, and Huffington Post. He once sold his own line of BBQ Sauce, was married in a doughnut shop, and got punched in the mouth so hard he lost a tooth. (Not all at the same time.) He lives in Louisville, KY with his wife and son.