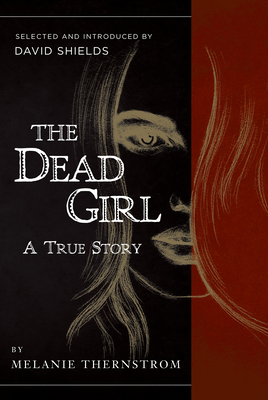 The Dead Girl
Paperback

* Individual store prices may vary.
Description
Melanie Thernstrom's senior thesis was entitled Mistakes of Metaphor, an account of the mysterious disappearance and murder of her best friend, Bibi Lee. That thesis, reworked as The Dead Girl, was published by Pocket Books in 1990 to major critical acclaim.



Berkeley student Roberta (Bibi) Lee went running with her lover Bradley Page on a Sunday in 1984. He came back alone. When she failed to return police mounted one of the largest missing–person searches in California history. Five weeks later Roberta's battered body was found and within hours, Page had confessed to Roberta's murder—a confession he was later to recant. With its enduring themes of innocence and evil, truth and uncertainty, human motives and emotions, The Dead Girl is a complex exploration of the nature of reality and the frail, shifting and suspect ways in which we respond to it.
Praise For The Dead Girl…
"I like this book better than In Cold Blood. It is more honest, more credible, more frightening, and more instructive." – Harold Brodkey

"…haven't put it down since I bought it; it's a haunting and brutal examination of friendship, love, and death that totally upends and redefines the idea of nonfiction." —Bookriot

THE DEAD GIRL is a unique story––powerfully moving, stark, tender and a wonderful read." ––Mary Higgins Clark

"Lovely and compelling. . . An impressive debut and a strong stirring memoir of a friend . . . reminds us what a thin edge we are on, and therefore of how astonishing it is to be alive." ––Anne Lamott, Mademoiselle

"THE DEAD GIRL builds with such graceful momentum that it reads like water flowing. . . the story of a friendship, after the fact, incapable of escaping it. . . hinting, again and again, that for one to have left the other, is a terrible betrayal, a broken promise, of some blood–sister pact made at the age of ten." ––Greil Marcus

"An extraordinary book. . . exquisitely written meditations. Melanie Thernstrom inhabits her book in an entirely original voice, struggling to make sense not only of what happened, but of how to tell it. You will feel changed by hearing her voice and carry it around for a long time." ––Louise Bernikow, Cosmopolitan

"In the tangle of Thernstrom's unflinchingly honest narrative is a profoundly unsettling portrait of privilege punctuated by despair." ––People Magazine
"A vastly gifted writer"––Kirkus

"A powerful exhaustive memoir of the writer's grief and recovery" ––New York Magazine

"Raises important questions about the nature of reality" ––San Francisco Examiner–Chronicle

"What a dark, magical book! THE DEAD GIRL reads like the most convincing of fairy tales, one where childish fears give way to the grimmest of adult realities. Part memoir, part whodunit, this is a passionately self–examined account of a lost friend and the effect of that loss. In its vaulting ambition and its fierce, unironic wish to create meaning, this book is a welcome departure from much of contemporary writing."––Daphne Merkin, Washington Post Book World

"A powerful moving book. . . THE DEAD GIRL is a testament to the magnetic power of her death, and Thernstrom's exceptional sensitivity qualifies her as an ideal guide through the darkness" ––Daniel Max, The New Republic

"An astonishingly delicate and sensitive memorial to a lost friend. . . the struggle of two privileged young women trying to find a place in the chaotic world of the mid 1980's." ––The Boston Globe

"Thernstrom is such a good writer, you'll follow her almost anywhere. . . a great many funny, sad, wise and compelling things about life are said in this book. . . It seems to validate one of the tenets of her friendship with Roberta, a theme expressed repeatedly in the book, that there is no sensibility so sharp and true as an adolescent's and so powerless against the grown–up world." ––Cleveland Plain Dealer

"Raw honest and disturbing––not just because of the violence at its center, but for the facts about a particular all–too–common young womanhood, pressured to please, pressured to succeed and clouded by self–doubt and fear." ––Self

"A fiercely honest and lyrical account. . .Thernstrom shows us a new generation, poised on the brink of adulthood, that knows the crucial difference between self–awareness and self–absorption." ––Pearl K. Bell

"Imaginative, complex and impassioned, THE DEAD GIRL is as much about growing up as it is about murder, as much about life––the life of young people today––as it is about death." ––Linda Wolfe, author of The Preppie Murder

"A truly remarkable exercise in insight and objectivity: the day to day concerns, joys and woes of this group of privileged young Americans are chronicled in this fierce light of tragedy and horror without a single false note being sounded." ––Conor Cruise O'Brien
Counterpoint, 9781940436135, 430pp.
Publication Date: October 14, 2014
About the Author
Melanie Thernstrom is an author and contributing writer for The New York Times Magazine. She is the author of Halfway Heaven: A Diary of a Harvard Murder, The Pain Chronicle, and The Dead Girl. Melanie lives with her husband and two children in Palo Alto, CA.

David Shields is the author of fifteen books, including the New York Times bestseller The Thing about Life Is That One Day You'll Be Dead; Reality Hunger, named one of the best books of 2010 by more than thirty publications; and Black Planet, a finalist for the National Book Critics Circle Award. His work has been translated into twenty languages. He lives in Seattle, WA.