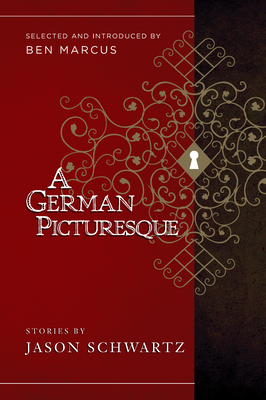 A German Picturesque: Selected and Introduced by Ben Marcus (Paperback)
Selected and Introduced by Ben Marcus
Pharos Editions, 9781940436173, 141pp.
Publication Date: February 10, 2015
Description
Haunting in their tone, brilliant in their images--very like fantastic presences moving across glass--the twenty-one fictions in this startling debut collection seem both inexplicably familiar and like no writing we have seen before. The opening story leads us through a kaleidoscopic series of thoughts and memories around the act of writing a letter. Another, an intricately structured document of documents--household inventories, daily calendars, property deeds, an announcement--suggests the reality overflowing these mundane markers of our lives. Yet another traces the histories of five artifacts, while at the same time slyly assembling five miniature biographical portraits.

About the Author
Author bio: Jason Schwartz is the author of two books of fiction, A German Picturesque (Alfred A. Knopf, 1998) and John the Posthumous (OR, 2013). His work has appeared in American Letters & Commentary, Antioch Review, Conjunctions, New York Tyrant, The Quarterly, Story Quarterly, Unsaid, and other publications. He is an Associate Professor in the English Department at Florida Atlantic University where he teaches creative writing Contributor Bio: Ben Marcus is the author of four books of fiction. His latest book, Leaving the Sea: Stories, was published by Alfred A. Knopf in January 2014. His stories, essays, and reviews have appeared in publications including Harper's, The New Yorker, The Paris Review, Granta, The New York Times, GQ, Salon, McSweeney's, Time, and Conjunctions.
Advertisement