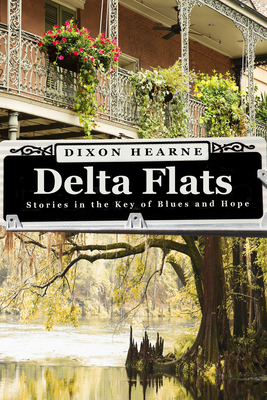 Delta Flats
Stories In The Key Of Blues And Hope
Paperback

* Individual store prices may vary.
Description
From the piney hills of northern Louisiana to the raw and decadent streets of New Orleans, Delta Flats: Stories in the Key of Blues and Hope records the daily lives of its characters with a poetic rhythm that evokes the ebb and flow of life itself. Dixon Hearne is a master at capturing the "blue reality" of life, moments—both large and small—that define the hot days and long nights of the deep south. With language as gritty as the blues and as beautiful as a gospel choir, he juxtaposes the downtrodden with the hopeful and the darkness with the light and plays out each story with deft, lyrical descriptions that make the reader want to laugh and sing with joy. 
Praise For Delta Flats: Stories In The Key Of Blues And Hope…
"The wonderfully charming stories in Dixon Hearne's Delta Flats: Stories in the Key of Blues and Hope are as variegated and as beautiful in both theme and tone as a Southern flower garden. Hearne is able to hit notes that range from tragic to comic to utterly hopeful, like an expertly hammered-out riff on the worn ivories of a well-tuned piano. So get ready to sit back and let Dixon Hearne take you on a journey that, once it's over, you'll never be the same again. And, trust me, you'll be glad for the ride." — David Armand, author of HARLOW and THE GORGE
"These moral stories resonate with the last vestiges of the Old South, making way for the new, including even the devastating challenges of Hurricane Katrina. His people may be poor and face dire odds, yet they seem to triumph with determination and an undeniable moral force from parishes around the state from Red Stick to Jackson to the Crescent City. You can almost hear the impromptu second line drums and brass in the New Orleans French Quarter and feel the spirit of the city's festivals. In Dixon Hearne's work, Louisiana is yet another gritty, beguiling character that Hearne sings to us with the resplendent force of a born balladeer." — Daren Dean, author of Far Beyond the Pale
"Dixon Hearne's Delta Flats: Stories in the Key of Blue and Hope fearlessly tells the stories of Louisiana folks from the Depression-era to Katrina.
These are old South stories in the best sense in that they take hard looks at the time-worn relentless issues of delta people and show transcendence in the midst of tragedy and prejudice. They are stories that showcase a writer with impressive range and register, a writer who also lets us hear the humor in his characters' songs, no matter how dire their situations.
Read this book, and you'll want to sing along." — Tim Parrish, author of Fear and What Follows, The Jumper, Red Stick Men
"In Delta Flats: Stories in the Key of Blue and Hope, Dixon Hearne weaves mesmerizing, languorous sentences into hair raising stories of larceny and adultery, of arson and death. It's a southern locale, part-Faulkner, part-Flannery O'Connor, part-ZZ Packer, and while the stories shift in time (from pre-Civil Rights days through Katrina), continuity flows from the sustained sense of place—the delta, New Orleans and its jewel, the Vieux Carré. Not just Pentecostal gospel and jelly-filled donuts, but a landscape haunted by a dishonored caste system, Hearne exhibits an eye for the telling detail as well as a fine ear for dialogue with characters and cadences that sweep the reader along. His sense of a story's progression is spot-on, his pacing, masterful. What a rich mosaic! In these stories the harsh and the sublime are equally stirred like the water snakes that swim through the bayous of the sportsmen's paradise. Delta Flats is spellbinding. Read these exquisite stories. Judge for yourself." — Stephanie Dickinson, author of Love Highway
Walrus Publishing, 9781940442143, 214pp.
Publication Date: March 15, 2016
About the Author
Dixon Hearne teaches and writes in the American South. Much of his work draws on his memories of growing up along the graceful river traces and bayous in West Monroe, Louisiana. After years of university teaching and writing for research journals, his interests turned to fiction and poetry—and the challenge of writing in a different voice.

He is the author of several recent books, including Native Voices, Native Lands and Plantatia: High-toned and Lowdown Stories of the South, which was nominated for the Hemingway Foundation/PEN award and won the Creative Spirit Award-Platinum for best general fiction book. His work has been twice nominated for a Pushcart Prize and has received numerous other honors. He is editor of several recent anthologies, including A Quilt of Holidays. His has been published widely in magazines, journals, and anthologies, including Oxford American, New Orleans Review, Louisiana Literature, Big Muddy, Cream City Review, Wisconsin Review, Post Road, New Plains Review, Weber-Contemporary West, Mature Living, Woodstock Revisited, The Southern Poetry Anthology: Louisiana, and others.He is a frequent presenter and an invited speaker at the Louisiana Book Festival and other literary events.
or
Not Currently Available for Direct Purchase