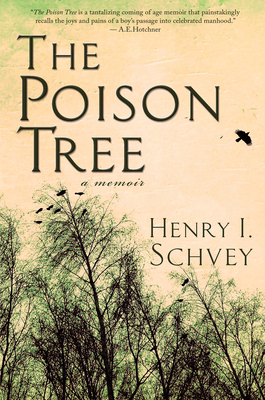 The Poison Tree
A Memoir
Paperback

* Individual store prices may vary.
Description
Growing up in his father's looming shadow, Henry I. Schvey wondered if he was doomed to repeat the past, doomed to make the same mistakes his father made. Would he succumb to the drive for domination and transform his own world into one colored by fear, domestic violence, infidelity, and spousal abuse? Schvey grew up in New York as his father rose to the pinnacle of success in the Reagan era of dog-eat-dog global finance, eventually becoming Vice-President and Chairman of the Bond Funds Division at Merrill Lynch. But his father's success was paid for with the currency of intimidation and he wore it with the braggadocio of a man with an outsized ego who didn't care who he stepped on to get to the top—including his son.
The Poison Tree is a study of Schvey's relationship to his father, an illumination of the secret life of a man who was powerful, highly respected, and greatly feared, and a journey—both sad and tragicomic—that ultimately leads to forgiveness.
Praise For The Poison Tree: A Memoir…
"Keenly felt and elegantly written, this is a moving and sad account of a family that despite—or perhaps because of—all its power and wealth was profoundly troubled. Although Schvey shows contempt for his closest relatives, he paints balanced portraits of each of them. Their very humanness makes the book all the more tragic, touching, and affecting. 

Schvey's sharp-edged humor—particularly when capturing the dialogue and mannerisms of his Jewish grandparents who tried to help —saves the author from wallowing in self-pity and gives a nice counterpoint to the "particularly virulent form" of illness called adolescence that he lived through and overcame.

A kind of nonfiction Portnoy's Complaint but with a lot less sex; intricately renders a dysfunctional family's life in the mid-20th century." — Kirkus Reviews
"The  Poison Tree  is a tantalizing coming of age memoir that painstakingly recalls the joys and pains of a boy's passage into celebrated manhood." — A.E.Hotchner
"This 'Remembrance of Things Past' is neither 'sweet' nor 'silent,' and I cite that sonnet because Henry Schvey's mother quotes Shakespeare frequently and his father is a character straight out of one of the tragicomedies—tempestuous, driven, hateful and hate-filled yet kind. Their son's memoir is closely watched and keenly heard: a riveting account of childhood and young manhood from the wounded adult who survives." — Nicholas Delbanco is the author, most recently, of the novel The Years
"With chilling accuracy, Henry Schvey reveals the cruelty that simmered beneath the seemingly placid surface of 1950s America. If you are a boomer who looks back on your childhood with nostalgia, if you saw Mad Men on TV and wished you could have lived in an era when the men looked and acted like Don Draper or Roger Sterling,The Poison Tree will both feed and cure your longing. With artistry and skill, wisdom and compassion, Schvey exposes not only his complicated relationship to his highly successful but sadistic father, but also the ways in which literature, art, and love can save a young man's soul." — Eileen Pollack, Professor, MFA Program in Creative Writing, University of Michigan
"Wickedly funny and heartbreaking in turn, this incisive and ironic sweep of his family's foibles and the America of the 60's 70's and 80's makes for compulsive reading. This is writing from a master of the genre which deserves a wide readership. Hugely enjoyable and compelling." — Jane Lapotaire, Royal Shakespeare Company Hon Associate Artist, Tony Award, Helen Hayes  and Olivier Award winner
"In this emotionally intimate memoir Henry Schvey proves that art is in the details. Reading The Poison Tree is like watching a great stage drama enacted on a meticulously designed set in which all of the principal players surprise us with the deep register of their flaws and fortitude." — Kathleen Finneran, author of The Tender Land
"The Poison Tree is a stunningly evocative portrait of what it means to be a son of a violent father, and the quiet forces that can shape a boy for life. Richly detailed, surprisingly funny, and always deeply felt, this book conjures Schvey's life as vividly as a stage play, from his childhood in the uppermost echelons of 1950s New York to the most tender reflections of a grown man looking back. Moving, complex, and deeply charming." — Kea Wilson, author of We Eat Our Own
"Richly detailed, painfully honest, yet by turns touching and humorous, Henry Schvey's The Poison Tree is a masterful memoir that tells the tale of a particular life but manages to speak for and to every life." — Gerald Early, Merle Kling Professor of Modern Letters, Washington University, and author of Daughters: On Family and Fatherhood
"Henry Schvey's memoir is not only beautifully written but a testament to the power of art, literature, and ideas. The Poison Tree proves, through elegant truth-telling, that cycles of violence can be overcome, reconciliation can be achieved, and the wounds of trauma can be healed." — Rabbi Susan Talve
Walrus Publishing, 9781940442167, 222pp.
Publication Date: September 6, 2016
About the Author
Henry Schvey was born in New York City, and attended Hunter College Elementary School and the Horace Mann School for Boys. After graduating from the University of Wisconsin, Madison, he received an MA in Western European Studies and a PhD in Comparative Literature at Indiana University. He worked in the Netherlands for fourteen years, during which time he taught at Leiden University and founded the Leiden English Speaking Theatre (LEST). He, his wife, and three children returned to the U.S. in 1987, where he became chair of the Performing Arts Department at Washington University in St. Louis. He stepped down as chair in 2007, but has continued to teach, direct, and write as Professor of Drama and Comparative Literature.