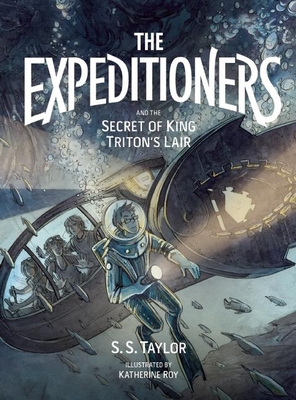 The Expeditioners and the Secret of King Triton's Lair (Paperback)
McSweeney's McMullens, 9781940450735, 320pp.
Publication Date: January 9, 2018
* Individual store prices may vary.
Description
Kit, Zander, and M. K. West are settling into their new lives as students at the Academy for the Exploratory Sciences when Kit finds another mysterious map left for him by their father, the brilliant, famous -- and presumed dead -- Explorer Alexander West. Why did Alexander leave the maps behind, and why are government agents so determined to seize them? What is really going on in a mysterious and unknown stretch of the Caribbean, famous for its violent storms and shipwrecks? And what is the huge contraption M. K. is building in her workshop? As two world powers come to the brink of war, Kit must find a deadly hidden island and unlock its secrets, hoping he has the courage to follow the trail of maps, wherever it may lead.
About the Author
S. S. Taylor has been fascinated by maps ever since the age of 10, when she discovered an error on a map of her neighborhood and wondered if it was really a mistake. She has a strong interest in books of all kinds, expeditions, old libraries, mysterious situations, long-hidden secrets, missing explorers, and traveling to known and unknown places. She lives in Vermont. Katherine Roy is an artist and author living in New York City. She loves adventure, history, and science, and is currently writing a book about great white sharks. The Expeditioners books are the first novels she has illustrated.
or
Not Currently Available for Direct Purchase