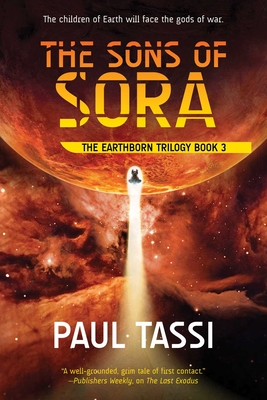 The Sons of Sora (Paperback)
The Earthborn Trilogy, Book 3
Talos, 9781940456393, 480pp.
Publication Date: January 19, 2016
Other Editions of This Title:
MP3 CD (9/13/2016)
* Individual store prices may vary.
Description
Set sixteen years after the events of The Exiled Earthborn, this explosive conclusion of the Earthborn trilogy tells the story of two brothers, the sons of Lucas and Asha, tasked with surviving the Xalan war to ensure the continued existence of the human race.

Noah, an orphan from Earth's last days who, as a child, was smuggled to safety across the stars, is now nearly a man and a leader to the young enclave of Earthborn who reside on Sora. When the tranquility of their settlement is shattered by a shocking assassination attempt, Noah turns to his combative younger brother Erik, Lucas and Asha's only child by blood, for aid. Their journey takes them to the remnants of a dead planet, an outlaw-infested space station, and back to Sora, whose inhabitants are bracing for a final showdown with the bloodthirsty Xalans.

They find themselves facing a new evil: the omnipotent Archon, who is somehow controlling the whole of the Xalan horde, and his bloodthirsty lieutenant, the Black Corsair, who has an unmatched taste for brutality. The Archon, so-called God of the Shadows, has unearthed knowledge that could wipe both Sorans and humans alike from the face of existence. The descendants of the Earthborn must uncover the true nature of the Archon and the Xalans before he burns everything they know and love to ashes.

Skyhorse Publishing, under our Night Shade and Talos imprints, is proud to publish a broad range of titles for readers interested in science fiction (space opera, time travel, hard SF, alien invasion, near-future dystopia), fantasy (grimdark, sword and sorcery, contemporary urban fantasy, steampunk, alternative history), and horror (zombies, vampires, and the occult and supernatural), and much more. While not every title we publish becomes a New York Times bestseller, a national bestseller, or a Hugo or Nebula award-winner, we are committed to publishing quality books from a diverse group of authors.
About the Author
Paul Tassi decided after years of consuming science fiction through a steady diet of books, movies, TV shows, and video games to write his own stories in the genre. He didn't imagine he'd ever actually finish a single book, but now that he's started writing, he doesn't want to stop. He is also the author of the Earthborn Trilogy. Paul writes for Forbes, and his work has also appeared on IGN, the Daily Dot, Unreality, TVOvermind, and more. He lives with his beautiful and supportive wife in Chicago.
Praise For The Sons of Sora: The Earthborn Trilogy, Book 3…
Praise for The Sons of Sora:

"Tassi melds a coming-of-age narrative with a philosophical nod toward dealing with pain and sorrow in the midst of the horrors of war. . . . The epic vibe doesn't detract from the quieter truths, and small victories of the heart carry as much weight as clashes of space dreadnoughts." —Publishers Weekly

Praise for The Exiled Earthborn:

"Again, Tassi delivers a fast-paced action novel that hums along . . . a solid read that is perfect for a quiet weekend." —San Francisco Book Review

"The space war between the human Sorans and their former slaves, the alien Xalan, continues in this fast-paced second Earthborn tale of raids and rescues. . . . A cliff-hanger ending almost demands that readers return for the concluding volume." —Publishers Weekly

Praise for The Last Exodus:

"In The Last Exodus, Tassi succeeds in weaving together the space and post-apocalypse sub-genres into an enthralling adventure story of survival, trust, and hope. . . . Bottom line: a quick read, very enjoyable, highly recommended." —Geeks of Doom

"What would happen if you threw Independence Day, The Walking Dead, and Guardians of the Galaxy into a blender? I can't say for sure, but it'd probably look something like The Last Exodus. Tassi's book is a clear, clever and action-packed romp that will undoubtedly appeal to sci-fi veterans and novices alike." —Blake Harris, author of Console Wars

"Readers of Paul Tassi's The Last Exodus should get strapped in for a thrilling ride—this guy can really tell a tale!" —Michael Cobley, author of the Humanity's Fire trilogy

"A well-grounded, grim tale of first contact . . . Debut novelist Tassi gifts his characters with solid motivations and understandable responses to the postapocalyptic setting." —Publishers Weekly

Praise for The Sons of Sora:

"Tassi melds a coming-of-age narrative with a philosophical nod toward dealing with pain and sorrow in the midst of the horrors of war. . . . The epic vibe doesn't detract from the quieter truths, and small victories of the heart carry as much weight as clashes of space dreadnoughts." —Publishers Weekly

Praise for The Exiled Earthborn:

"Again, Tassi delivers a fast-paced action novel that hums along . . . a solid read that is perfect for a quiet weekend." —San Francisco Book Review

"The space war between the human Sorans and their former slaves, the alien Xalan, continues in this fast-paced second Earthborn tale of raids and rescues. . . . A cliff-hanger ending almost demands that readers return for the concluding volume." —Publishers Weekly

Praise for The Last Exodus:

"In The Last Exodus, Tassi succeeds in weaving together the space and post-apocalypse sub-genres into an enthralling adventure story of survival, trust, and hope. . . . Bottom line: a quick read, very enjoyable, highly recommended." —Geeks of Doom

"What would happen if you threw Independence Day, The Walking Dead, and Guardians of the Galaxy into a blender? I can't say for sure, but it'd probably look something like The Last Exodus. Tassi's book is a clear, clever and action-packed romp that will undoubtedly appeal to sci-fi veterans and novices alike." —Blake Harris, author of Console Wars

"Readers of Paul Tassi's The Last Exodus should get strapped in for a thrilling ride—this guy can really tell a tale!" —Michael Cobley, author of the Humanity's Fire trilogy

"A well-grounded, grim tale of first contact . . . Debut novelist Tassi gifts his characters with solid motivations and understandable responses to the postapocalyptic setting." —Publishers Weekly
or
Not Currently Available for Direct Purchase