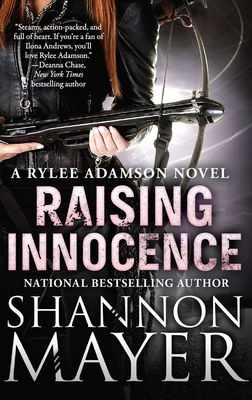 Raising Innocence (Mass Market)
A Rylee Adamson Novel, Book 3
Talos, 9781940456973, 288pp.
Publication Date: January 3, 2017
Other Editions of This Title:
Other (6/4/2013)
* Individual store prices may vary.
Description
"My name is Rylee and I am a Tracker."

When children go missing, and the Humans have no leads, I?'m the one they call. I am their last hope in bringing home the lost ones. I salvage what they cannot.

The FBI wants me on their team. Bad enough that they are dangling bait they know I can't resist.

The catch? It's on the other side of the ocean.

And if I want what they're offering, I have to help them with a salvage gone terribly, terribly wrong.

But this time, I have no back up. I have no Plan B.

And I have no O'Shea.

Starring the irresistible, ass-kicking heroine Rylee Adamson, Raising Innocence is the third book in USA Today bestselling author Shannon Mayer's sexy, exciting, and laugh-out-loud series, a dangerously addictive paranormal romance.
About the Author
Shannon Mayer is the USA Today bestselling author of the Rylee Adamson novels, the Elemental series, and numerous paranormal romance, urban fantasy, mystery, and suspense novels. She lives in the southwestern tip of Canada with her husband, son, and numerous other animals.
Praise For Raising Innocence: A Rylee Adamson Novel, Book 3…
Praise for Shannon Mayer and the Rylee Adamson series

"Steamy, action-packed, and full of heart. If you're a fan of Ilona Andrews, you'll love Rylee Adamson."
—New York Times bestselling author Deanna Chase

"Mayer's books rank right up there with Kim Harrison's, Patricia Briggs's, and Ilona Andrews's. Get ready for a whole new take on urban fantasy and paranormal romance and be ready to be glued to the pages!"
—Just My Opinion Book Blog

"Rylee is the perfect combination of loyal, intelligent, compassionate and kick-ass. Many times, the heroines in urban fantasy novels tend to be so tough or snarky that they come off as unlikable. Rylee is a smart-ass for sure, but she isn't insulting. Well, I guess the she gets a little sassy with the bad guys, but then it's just hilarious."
—Diary of a Bibliophile

"I could not put it down. Not only that, but I immediately started the next book in the series, Immune."
—Just Talking Books

"Priceless was one of those reads that just starts off running and doesn't give too much time to breathe. . . . I'll just go ahead and add the rest of the books to my TBR list now."
—Vampire Book Club

"This book is so great and it blindsided me. I'm always looking for something to tide me over until the next Ilona Andrews or Patricia Briggs book comes out, but no matter how many recommendations I get nothing ever measures up. This was as close as I've gotten and I'm so freakin happy!"
—Dynamite Review

"Highly recommended for all fans of urban fantasy and paranormal."
—Chimera Reviews

"I absolutely love these books; they are one of the few Paranormal/urban fantasy series that I still follow religiously. . . . Shannon's writing is wonderful and her characters worm their way into your heart. I cannot recommend these books enough."
—Maryse Book Review

"It has the perfect blend of humor, mystery, and a slow-burning forbidden-type romance. Recommended x 1000."
—Sarah Morse Adams

"These books are, ultimately, fun, exciting, romantic, and satisfying. . . .Trust me on this. You are going to love this series."
—Read Love Share Blog

"This was a wonderful debut in the Rylee Adamson series, and a creative twist on a genre that's packed full of hard-as-nails heroines. . . . I will definitely stay-tuned to see what Rylee and her new partner get up to."
—Red Welly Boots

"Priceless did not disappoint with its colourful secondary characters, unique slant on the typical P.I. spiel, and a heroine with boatloads of untapped gifts."
—Rabid Reads

Praise for Shannon Mayer and the Rylee Adamson series

"Steamy, action-packed, and full of heart. If you're a fan of Ilona Andrews, you'll love Rylee Adamson."
—New York Times bestselling author Deanna Chase

"Mayer's books rank right up there with Kim Harrison's, Patricia Briggs's, and Ilona Andrews's. Get ready for a whole new take on urban fantasy and paranormal romance and be ready to be glued to the pages!"
—Just My Opinion Book Blog

"Rylee is the perfect combination of loyal, intelligent, compassionate and kick-ass. Many times, the heroines in urban fantasy novels tend to be so tough or snarky that they come off as unlikable. Rylee is a smart-ass for sure, but she isn't insulting. Well, I guess the she gets a little sassy with the bad guys, but then it's just hilarious."
—Diary of a Bibliophile

"I could not put it down. Not only that, but I immediately started the next book in the series, Immune."
—Just Talking Books

"Priceless was one of those reads that just starts off running and doesn't give too much time to breathe. . . . I'll just go ahead and add the rest of the books to my TBR list now."
—Vampire Book Club

"This book is so great and it blindsided me. I'm always looking for something to tide me over until the next Ilona Andrews or Patricia Briggs book comes out, but no matter how many recommendations I get nothing ever measures up. This was as close as I've gotten and I'm so freakin happy!"
—Dynamite Review

"Highly recommended for all fans of urban fantasy and paranormal."
—Chimera Reviews

"I absolutely love these books; they are one of the few Paranormal/urban fantasy series that I still follow religiously. . . . Shannon's writing is wonderful and her characters worm their way into your heart. I cannot recommend these books enough."
—Maryse Book Review

"It has the perfect blend of humor, mystery, and a slow-burning forbidden-type romance. Recommended x 1000."
—Sarah Morse Adams

"These books are, ultimately, fun, exciting, romantic, and satisfying. . . .Trust me on this. You are going to love this series."
—Read Love Share Blog

"This was a wonderful debut in the Rylee Adamson series, and a creative twist on a genre that's packed full of hard-as-nails heroines. . . . I will definitely stay-tuned to see what Rylee and her new partner get up to."
—Red Welly Boots

"Priceless did not disappoint with its colourful secondary characters, unique slant on the typical P.I. spiel, and a heroine with boatloads of untapped gifts."
—Rabid Reads
or
Not Currently Available for Direct Purchase