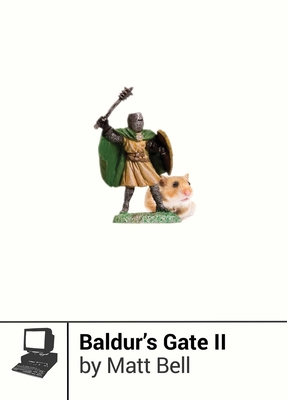 Baldur's Gate II (Boss Fight Books #8)
Paperback

* Individual store prices may vary.
Description
Upon its release in 2000, BioWare's PC role-playing epic Baldur's Gate II: Shadows of Amn was hailed as a paragon of its genre and named RPG of the Year by IGN, GameSpy, and GameSpot. A game like Baldur's Gate II requires not just a master wordsmith but a dungeon master. Enter award-winning novelist Matt Bell, author of four works of fiction and co-author of the Dungeons & Dragons novel The Last Garrison.

Bell's book explores BG2's immersive narrative and complex mechanics, unpacks how RPG systems enable our emotional investment in characters, investigates the game's non-linear story, and relates his own struggle to reconcile being a serious adult with his love of D&D and video games. Dig in, geek out, and go for the eyes, Boo.
Boss Fight Books, 9781940535081, 144pp.
Publication Date: June 22, 2015
or
Not Currently Available for Direct Purchase