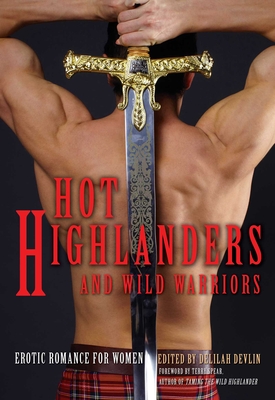 Hot Highlanders and Wild Warriors
Erotic Romance For Women
Paperback

* Individual store prices may vary.
Description
Men devoting themselves to their true love through the art of courtly love is the ultimate in romance. Hot Highlanders and Wild Warriors is filled with wild knights and Scottish warriors whose courage on the battlefield is outmatched only by their ardor for their ladyloves! Readers will unleash their fantasies of olden days where men wearing heavy armor or thick tartans sent a spirited young maiden's (or lonely widow's) heart fluttering. These bravehearts were prized for their physical strength and men were judged for their fierce loyalty and unshakeable honor. Crusaders, highlanders, Normans and Saxons, tournament fighters, vikings, and hunky Huns astride stallions in search of adventure and love all populate the pages of this steamy read.
Praise For Hot Highlanders and Wild Warriors: Erotic Romance For Women…
"Amazing stories that keep you wanting more." -- Fresh Fiction
"I read and finished Hot Highlanders and Wild Warriors way faster than I wanted to. It left me both satisfied and hungry for more and has earned a one way pass to my keeper shelf. I loved every story, every culture portrayed, the incredibly hot sex scenes, and how powerfully vivid and well researched each story appeared on the page. Rich in the historical tidbits I wish I'd been taught in school, written like the forbidden romance novels I used to read under my high school desk. It's emotional candy to keep a reader warm now that the weather is getting cold." -Martha Davis, Quixotic Orchid
"Hot Highlanders and Wild Warriors with a title like this you know it's worth the read. Men in Kilts enough said." -HEA Romances with A Little Kick
"Even though these are short lustful reads, they are full of love and honor. I tip my hat to all of the authors and people who contributed to Hot Highlanders and Wild Warriors I love what you did with the time period, all of you captured it brilliantly. I felt as if I was there among the characters.There is not one story that I would not like to see in a full blown novel…I know, I am a greedy wench." -HEA Romances with A Little Kick
"Highlanders are H-O-T! If you can't get enough of sexy men in kilts, pick up HOT HIGHLANDERS AND WILD WARRIORS." --ARe Cafe
— Reviews
Cleis Press, 9781940550022, 242pp.
Publication Date: October 14, 2014
About the Author
Delilah Devlin is a rising star in the world of erotica and romance. Her titles include Cowboy Lust, Into the Darkness, Seduced by Darkness, Darkness Captured, Down in Texas, and Texas Men. Her short stories have been featured in Zane's Purple Panties, Girl Crush, Fairy Tale Lust, Lesbian Lust, Carnal Machines, and Passion. A USA Today best-selling author, she lives in Arkadelphia, AR.Jo Davis lives in Wylie, TX.
or
Not Currently Available for Direct Purchase