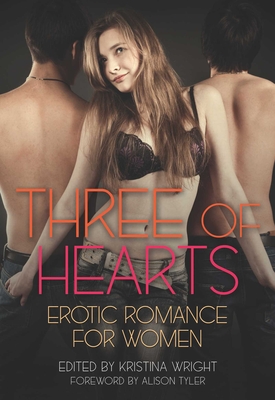 Three of Hearts
Erotic Romance For Women
Paperback

* Individual store prices may vary.
Other Editions of This Title:
Digital Audiobook (4/30/2015)
Description
Three's company? No, three's a charm! Three of Hearts features sexy trios who are not just falling into bed, they're falling (or have already fallen) in love. These stories explore the threesome dynamic emotionally as well as sexually. Whether it's a couple introducing a third person to their relationship for just one night of fun or for a lifetime commitment, or a woman torn between two lovers who decides not to choose, the focus of this collection of sexy stories is entirely on female pleasure.
Praise For Three of Hearts: Erotic Romance For Women…
"Three's company? No, three's a charm! In these sexy stories, threesomes are not just falling into bed--they're falling in love." --Publishers Weekly
"Three of Hearts is a strong collection for readers interested in elevating their heart rate with something a little more exotic than your standard one-on-one erotica novel." -Portland Book Review
From Jessica Rabbit at Omni Lust: "These stories are versatile in their characters and include gay, straight, and bi-sexual scenes. There are stories about committed couples bringing in a third party, friends becoming more, and polyamorous relationships. I truly appreciate the diversity incorporated."
"An anthology I want to dive in to, head first, no questions asked." --Lady Laid Bare
"I experienced Three of Hearts as a smattering of hot, entertaining, diverse stories that do the topic of threesomes in their innumerable possibilities justice. In some instances, the identification of the "third" wasn't even obvious. There were simply people in relationship, interacting within that core theme of a triangle of bodies, hearts, perspectives, circumstances. It all adds up to a great triple-decker ride--and one I recommend taking!" -Emerald, The Green Light District
"I've yet to find a Kristina Wright anthology I didn't like and her threesome anthology has made it to the very first space on my to-be-read again bookshelf, like the star on top of my literary Christmas tree." -OmniLust
"If you read a Kristina Wright story, you know you'll be getting a well-written, arousing as hell, quality story. And she's a fantastic editor as well. Any anthology with her name on the cover as editor will be chock full of amazing stories (My favorite? Possibly Steamlust: Steampunk erotic romance)." -Cheyenne Blue
"Kristina Wright knows how to spin a yarn that keeps the reader captivated." --Coffee Time Romance
— Reviews
Cleis Press, 9781940550039, 232pp.
Publication Date: March 17, 2015
About the Author
Kristina Wright (kristinawright.com) is the editor of over a dozen published and forthcoming Cleis Press anthologies, including the best-selling Fairy Tale Lust: Erotic Fantasies for Women. Other titles include: Dream Lover: Paranormal Tales of Erotic Romance; Steamlust: Steampunk Erotic Romance; Lustfully Ever After: Fairy Tale Erotic Romance; Duty and Desire: Military Erotic Romance; xoxo: Sweet and Sexy Romance, and the Best Erotic Romance series. She is also the author/editor of the cross-genre Bedded Bliss: A Couple's Guide to Lust Ever After for Cleis Press. Her fiction has been published in over one hundred anthologies and her nonfiction has appeared in numerous publications, both print and online. She holds degrees in English and humanities and has taught composition and world mythology at the college level. Originally from South Florida, Kristina is living happily ever after in Virginia with her husband, Jay, and their two little boys.

Alison Tyler is a prolific author of erotic fiction and is the editor of Three-Way, Heat Wave, Best Bondage Erotica, Love at First Sting, and Naughty or Nice. Called a "literary siren" by Good Vibrations, she is the author of over 25 explicit novels. Her books have been translated into Japanese, Dutch, German, Italian, Norwegian, Greek, and Spanish. She lives in San Francisco.
or
Not Currently Available for Direct Purchase