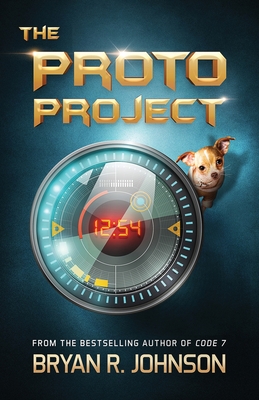 The Proto Project
A Sci-Fi Adventure of the Mind
Paperback

* Individual store prices may vary.
Other Editions of This Title:
Hardcover (9/23/2019)
Description
From the best-selling award-winning author of Code 7: Cracking the Code for an Epic Life, Bryan R. Johnson
2020 Mom's Choice Gold Award
2020 Readers' Favorite Award
2020 Purple Dragonfly Award
Featured Children's Book Selection by Kirkus Reviews
Praised by Publishers Weekly
When Jason meets his mom's billion-dollar invention, an artificial intelligence device named Proto, he accidentally gets caught up in a mysterious adventure. Proto goes missing, and then people go missing. Now Jason and his coolest-neighbor-ever Maya must risk their lives to prevent global mayhem. But who is behind this devious plot? Is it another AI? The FBI? Or any other abbreviation with an I? What exactly is there to learn about artificial and human intelligence while fighting for your life against a legion of furry puppies or a battalion of drones? A lot- if you live to tell about it.
"All the other books I've read were pretty cool, but not as awesome as this. Best book ever " - Jlburk
Great for independent young readers, boys and girls, ages 8-12 (3rd, 4th, 5th, 6th and 7th grade)
Best for kids who have outgrown chapter books and are ready for longer middle-grade books
A wonderful gift for anyone looking for fun and funny reading with content that is age-appropriate for kids at home and in school
Best for kids who ...
Adore realistic fiction combined with fantasy and science fiction, told with humor and tall-tale flair
Love fast-paced novels filled with mystery, suspense, and adventure
Ideal for readers who enjoy popular series books like I Survived, Diary of a Wimpy Kid, Encyclopedia Brown, The Last Kids on Earth, National Geographic Kids and love books by top authors like James Patterson, Kate Dicamillo, and Dav Pilkey.
Great for gift-givers, parents, and educators looking for ...
An entertaining, educational novel for upper-elementary and middle school tweens
Upholds strong values, encourages intellectual curiosity with a growth mindset, and inspires social and global responsibility
Encourages interest in STEM careers (science, technology, engineering and math)
Incorporates potential real-world applications of modern developments in Artificial Intelligence in concert with Biology, Chemistry, and Physics
Emphasizes collaboration and teamwork to benefit the greater good
"Johnson keeps the middle school laughs going in this action-packed, accessible look at the pros and cons of advancing AI and technology, a contemporary tale certain to intrigue and entertain young readers." Publishers Weekly
"Johnson (Code 7, 2017) offers a well-calculated balance of suspense and humor for middle school readers .... Action sequences are exciting and dramatic. The novel also provides food for thought in considering how AI could help or hurt humanity. Although the villains are over the top, they do give voice to some of the forces that might want to use AI for selfish, grandiose reasons. A well-written, fast-paced and thoughtful adventure." - Kirkus Review
"A fast-paced and exciting novel that makes the techiest James Bond spy thriller seem old-fashioned and stodgy by comparison ... Impossible to put down." - Readers' Favorite 5-star review
Lexile score 600L-700L DRA 28 Guided Reading Level N
Age Level: 8 and up Grade Level: 3 and up
Available in hardcover, paperback, audiobook, and Kindle.
Candy Wrapper, 9781940556055, 232pp.
Publication Date: September 9, 2019