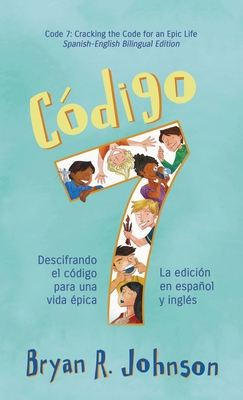 Código 7
Código 7: Descifrando el código para una vida épica - La edición en español y inglés
Hardcover

* Individual store prices may vary.
Description
Ages 7+ - Grades 2 and Up
Bilingual Spanish-English Edition (Two books in one )
Kid Tested. Parent and Teacher Approved.
2019 Readers' Favorite Five-Star Award
Life at Flint Hill Elementary School may seem normal, but seven friends find themselves on a path to crack the code for an epic life. Whether they're chasing their dreams on stage, searching for an elusive monster fish, or running a makeshift business out of a treehouse, can these heroes find a way to work together to change their community?
The award-winning, bestselling children's book Code 7: Cracking the Code for an Epic Life is now featured in a special edition for bilingual families and ELL/ESL classrooms
"Finding suitable reading material for classes of twenty children is already challenging and even more so when two languages get involved. This book has a great message for kids, a decent reading level, and the great advantage of being an English teaching tool kids will enjoy" - Maria Crus Fernandez, Elementary School Teacher
Read the book in Spanish or flip to the back to read it in English
Designed to be read independently, or as a read-together, or in the classroom
Ideal for kids ages 7 and up (2nd, 3rd, 4th and 5th grade)
Features seven fun and inspiring characters that kids can easily relate to
Great for engaging children in discussions about growth mindset, kindness, perseverance, integrity, character, friendship, identity, self-reliance, and self-esteem.
Ideal for fans of Diary of a Wimpy Kid, Dog Man, Magic Treehouse, American Girl, Judy Moody, Princess in Black, and Geronimo Stilton.

A partir de 7 a os - 2 curso y superiores
Edici n biling e espa ol-ingl's ( dos libros en uno )
Probado con ni os. Acreditado por padres y profesores.
Galard n Reader's Favorite Five-Star 2019
La vida en la escuela primaria de Flint Hill puede parecer normal, pero siete amigos emprenden un camino para descifrar el c digo que les conduzca a una vida pica. Tanto si se encuentran persiguiendo sus sue os en el escenario, buscando un escurridizo pez de gran tama o, o creando un negocio improvisado en la casa del rbol, podr n estos h roes encontrar la forma de trabajar juntos para cambiar su comunidad?
El galardonado libro infantil y xito de ventas, C digo 7: Descifrando el c digo para una vida pica, ahora se presenta en una edici n especial para familias biling es y clases de ingl's
"El encontrar un material de lectura adecuado para clases de veinte ni os es ya de por's un reto, y la dificultad aumenta cuando son dos idiomas los implicados. Este libro proporciona un mensaje estupendo para los ni os, tiene un nivel de lectura decente, y la gran ventaja de ser una herramienta de ense anza del ingl's que los ni os van a disfrutar" - Maria Crus Fernandez, Profesora de escuela primaria
Lee el libro en espa ol o dale la vuelta para leerlo en ingl's.
Dise ado para su lectura independiente, o para leerlo juntos, o en clase.
Ideal para ni os a partir de 7 a os (segundo, tercer, cuarto y quinto curso).
Presenta a siete personajes divertidos e inspiradores con los que los ni os se pueden identificar f cilmente.
Estupendo para animar a los ni os a debatir sobre la mentalidad de crecimiento, la confianza en uno mismo y la autoestima.
Candy Wrapper, 9781940556109, 192pp.
Publication Date: September 18, 2019
or
Not Currently Available for Direct Purchase