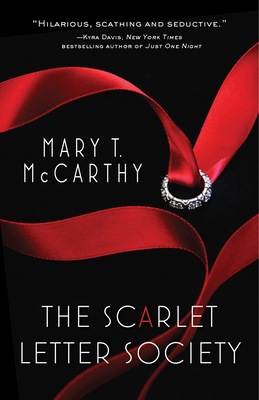 The Scarlet Letter Society (Paperback)
Polis Books, 9781940610399, 272pp.
Publication Date: May 12, 2015
* Individual store prices may vary.
Description
Meet Maggie, Eva, and Lisa, founders of The Scarlet Letter Society. Named as such due to their various infidelities, both physical and emotional, the "SLS" is these women's refusal to be shamed like Hester Prynne in Nathaniel Hawthorne's classic tale of forbidden longing. Maggie is twice-divorced and juggling three lovers -- one of whom is her first ex-husband. Eva is trapped in a loveless marriage and has turned to her young intern and a seductive French chef for satisfaction. Lisa dreams of one day becoming a mother, but her husband has more romantic interest in her footwear than he does in her. Once a month, these women meet at their local bookstore to discuss love, life, and literature. Through their friendships and liaisons, they attempt to gain insight into the curveballs life has thrown their way, and how each of them can find emotional and sexual fulfillment. A witty, insightful, and steamy novel about a group of women who have chosen to forge their own paths, and must deal with the ramifications of their past and present choices, The Scarlet Letter Society is for anyone who's found their fairy tale isn't quite what Disney had in mind.

About the Author
Mary McCarthy's 20-year writing career includes The Washington Post, Philadelphia Inquirer, Baltimore Sun, regional magazines (two as editor), and newspaper humor columns. Online, she founded pajamasandcoffee.com in 2008 and writes and edits at Splice Today. She's contributed as a blogger at katiecouric.com, appeared on The Today Show, Huffington Post Live, and ABC TV News' Moms Get Real with JuJu Chang. She has spoken at a number of national and regional conferences including BlogHer, BloggyCon, and the Bay to Ocean Writers Conference and she is an instructor at The Writer's Center in Washington, D.C. She lives on Maryland's Eastern Shore with her husband and four children. THE SCARLET LETTER SOCIETY is her first novel. Follow her at @marymac.