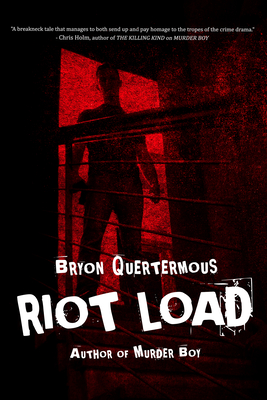 Riot Load (Dominick Prince #2)
Paperback

* Individual store prices may vary.
Description
Dominick Prince returns. Probably against his better judgment. Dominick Prince went through hell to make his dreams come true. He has a book deal, time and money to write whatever he wants, and a marriage to his college crush with a child on the way. But instead of working on his next book, Dominick spends his days as a mindless office drone at the university cancer center while his wife chases bail jumpers. When an old friend reappears to call in a favor, Dominick sees an opportunity for a little excitement. The plan seems simple. Dominick will use his access at the hospital to help steal the last remaining piece of her murdered lover: a sperm sample left during prostate cancer treatment. Standing in their way are a pair of brothers who find kidnapping potential children superior to kidnapping actual children, and Dominick's wife who has her own plans for it. Torn between his wife's wrath and the debt he owes his friend, Dominick taps into the most devious parts of his crime fiction training to write himself a proper ending where he saves the day, saves the girl, and lives to write another day. Unless he blows it all to hell.

Polis Books, 9781940610689, 272pp.
Publication Date: June 14, 2016
About the Author
Bryon Quertermous was born and raised in Michigan. His short stories have appeared in Plots With Guns, Thuglit, and Crime Factory, among others, and in the anthologies Hardcore Hardboiled, The Year's Finest Crime, Mystery Stories, and Uncage Me. He was shortlisted for the Debut Dagger Award from the UK Crime Writers' Association. He lives outside of Detroit with his wife and three children.