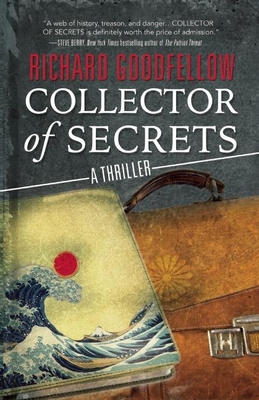 Collector of Secrets (Max Travers)
Paperback

* Individual store prices may vary.
Other Editions of This Title:
Hardcover (8/11/2015)
MP3 CD (9/13/2016)
Description
American Twenty-something Max Travers, an English teacher in Japan with a beautiful girlfriend, wants out. His manipulative boss, Yoko, is trying to swindle the unsuspecting parents of his students and is using his golden boy American face to do it. Desperate to get his passport out of Yoko's locked cabinet, he sneaks into her office in the middle of the night only to surprise the Japanese mafia's burglary-in-progress. Taking whatever he can in the short amount of time he has, Max barely escapes with his life. However Max soon finds himself on the run from everyone from tattooed Yakuza to the Japanese police and a mysterious American named Lloyd Elgin who seems to have ties in the highest places. All are after the book Max grabbed instead of the passport that could take him home, a strange diary bound in leather and closed with a strange seal embossed with ornate chrysanthemum petals. Little does Max know that Yoko's father has been safeguarding the diary for more than half a century, and its secrets could topple some of Japan's most powerful people and rewrite the history of Japan's royal family. With both his and his girlfriend's life in the balance, Max must decipher the secrets of the diary and put an end to the chase before his newest, gravest troubles catch up to him and stop his running for good. Collector of Secrets marries the historical intrigue, deep research, and wide commercial appeal of the best of Dan Brown or Michael Gruber to the techno-savvy, judo-kicking, stranger-in-a-strange-land atmosphere of Barry Eisler's internationally bestselling John Rain series. Richard Goodfellow has used real-life conspiracy theories from the Far East in the creation of a nonstop ride that covers everything from World War II to Watergate. This is his first novel.
Polis Books, 9781940610832, 368pp.
Publication Date: July 12, 2016
About the Author
Richard Goodfellow spent two years teaching English in Japan in the early 1990s. A software consultant and self-described road warrior, he penned the majority of Collector of Secrets on airplanes and in small towns throughout Oregon, Texas, Florida, and everywhere in between. After completion of the novel's first draft, he returned to Japan for a month of further travel to lay fresh eyes on the novel's locations, almost every one of which is real. Collector of Secrets is his first novel. He lives in Chicago, Illinois.