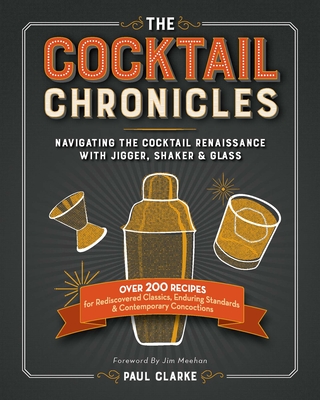 The Cocktail Chronicles
Navigating the Cocktail Renaissance with Jigger, Shaker & Glass
Paperback

* Individual store prices may vary.
Description
From Paul Clarke, editor of Imbibe and the 2014 Best Cocktail & Spirits Writer comes The Cocktail Chronicles, an approachable guide to the cocktail renaissance thus far and--as the name implies--a chronicle of the cocktails that have come along the way. Based on his informative and ground-breaking blog by the same name, The Cocktail Chronicles is not a lab manual for taking the cocktail experience to a molecular level; nor is it an historical monograph tracing the details of our forebears as they developed and mixed the drinks we enjoy today. Instead, The Cocktail Chronicles is a collection of approachable, and easily replicable drinks that all share the same thing: a common deliciousness and a role -- both big and small -- in the ongoing and thriving cocktail renaissance. With helpful insight into glasses, tools, and basic cocktail tips and techniques, The Cocktail Chronicles covers familiar classics, back-from-the-dead obscurities, enduring classics and the drinks they've inspired, and the contemporary cocktails the may well be built to last. This is the cocktail guide that distills all the noise of the current craze into one useful, accessible, and fun-to-read reference that makes cocktails easy to enjoy.
Spring House Press, 9781940611174, 200pp.
Publication Date: August 1, 2015
About the Author
Paul Clarke is a journalist specializing in spirits, cocktails and the culture of drink. The executive editor of Imbibe magazine, he has spent the past decade researching and writing about drinks for Imbibe, the San Francisco Chronicle, the New York Times, Serious Eats, Tasting Table and many other publications and websites, and is a member of the editorial board for the Oxford Companion to Spirits and Cocktails. Since 2005, Clarke has documented his exploration of fine spirits and mixology on The Cocktail Chronicles, one of the first exclusively spirits and cocktail-related blogs on the Internet, and he's the founder and moderator emeritus of Mixology Monday, a monthly online cocktail party that's attracted scores of participants and thousands of readers since its 2006 debut. A regular speaker at events including Tales of the Cocktail, Portland Cocktail Week and the Manhattan Cocktail Classic, Clarke has received a Spirited Award from Tales of the Cocktail for Best Cocktail Writing, and a Bert Greene Award from the International Association of Culinary Professionals for his drinks journalism. He lives in Seattle.